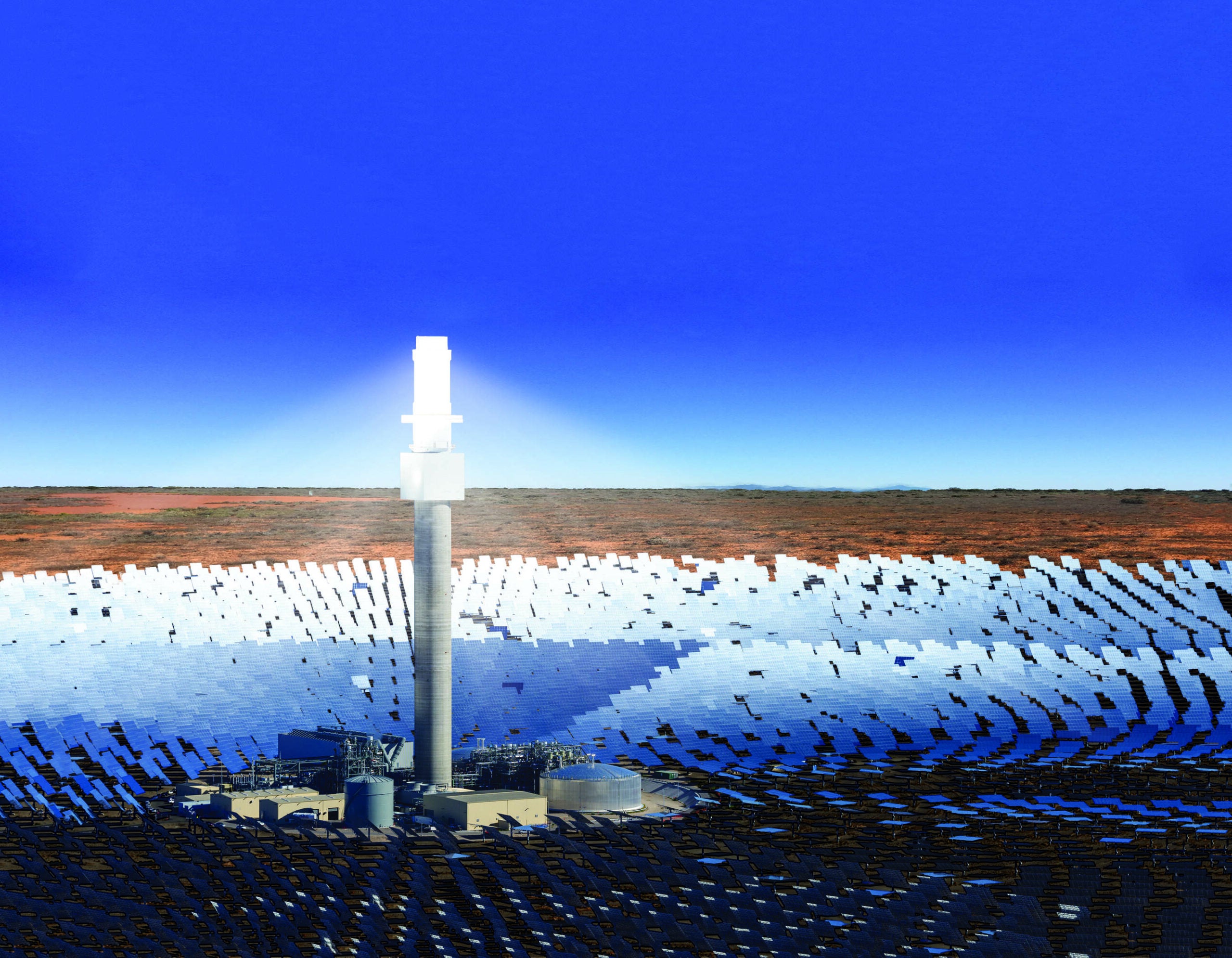 After more than five years of solid campaigning, the residents of Port Augusta in Australia finally have what they want: an agreement to build a new solar thermal power plant in the South Australian City.
The task, known as the Aurora Solar Energy Project, will fall upon US firm SolarReserve, having won a competitive tender in August. Ground on the 150-megawatt plant will begin next year, with completion scheduled for 2020.
The facility is set to cost in the region of AUD 650 million, and will bring with it 650 new construction jobs.
The deal crystallises a local support for solar thermal that has snowballed in recent years. It has been led by workers, formerly employed at the city's now-defunct coal-fired plants, whose appeals have been heard by state and federal government, as well as global energy giants in France and the US.
Their efforts have been rewarded. In May, the federal government committed AUD 110m of equity in its budget towards building solar thermal with storage in Port Augusta. Now SolarReserve has come to town.
A long time coming: The road to renewables
For Repower Port Augusta – an alliance comprised of local residents unions, local businesses, environmentalists and renewable energy advocates – a massive victory has been scored.
"The advocacy of the local community to embrace a renewable future was key to this happening," says Dan Spencer, a campaigner from the group.
"Building solar thermal with storage is a perfect fit for the region and offers new and ongoing job opportunities to workers from the recently closed Port Augusta coal-fired power stations."
South Australian premier Jay Weatherill has promised the plant will be "the biggest of its kind in the world". The contract with SolarReserve is for 20 years, he revealed, with the government set to pay a maximum of AUD 78 per megawatt hour.
The facility will also complement the region's existing solar and photovoltaic systems.
In spite of its deep coal-fired past, variable renewable generation now exceeds 50% of South Australia's total energy supply. However, given that solar and PV are contingent on sunshine and a steady wind, the state also depends on gas and imports on neighbouring state Victoria via an interconnector.
This has made the state more vulnerable as to the availability of the connector, requiring increased amounts of storage. This is where solar power could bring about real benefits.
"Solar thermal may provide some of this storage," says Dr Matthew Stocks, a research fellow in the research school of engineering at the Australian National University.
"Heat is stored in molten salt and can be withdrawn to generate power at a later time even if the sun is not shining. Using a thermal generator also provides inertia in the system, which helps stabilise the system against short-term [less than a few seconds] perturbations. This is harder to provide with wind energy."
The beginning of the end for coal?
With South Australia's high solar irradiance, Port Augusta is also a strong fit for the project, adds Stocks.
"The region is well suited to this project," he says. "It has very high direct normal incidence – cloud free skies – which is important when it comes to concentrating the sunlight. The system is an appropriate size for the region and should help make the system stronger and more tolerant of faults."
Last year saw the closure of the coal-fired Northern Power station after 62 years of operations, costing hundreds of jobs. For South Australian energy minister Tom Koutsantonis, the new plant is the strongest signal yet that Australia is ready to make a clean break from fossil fuels.
"This contract marks the beginning of the end for the coal industry in this country," he says.
"Along with our grid-scale battery, this solar thermal facility firmly entrenches South Australia as a world leader in the storage of renewable energy. We have seen a turning point in this country where solar thermal projects are actually significantly cheaper than coal."
The deal, says Koutsantonis, will provide cheaper power to the state's schools, hospitals and trams, "while also boosting supply to the broader market in order to reduce power bills for households and businesses".
And what of SolarReserve,the company at the heart of all this? The group has experience in solar thermal, having installed a 110-MW system in Crescent Dunes in Nevada, which began operations in 2015. This year, it also won a contract for a 450-MW project in Copiapó, Chile.
However, the Nevada plant has already run into difficulties, and was forced to go offline in October 2016 after a leak was discovered in a molten salt tank. Operations were resumed in July. Could such past mistakes be something to be concerned about?
"The risk largely falls to investors as the government has a purchase agreement, which depends on electricity being produced," says Stocks.
A shining example of reinvention
This is not likely to dampen the mood among Port Augusta's legion of solar thermal supporters. Neither will they care much that the system requires more subsidisation than wind and PV.
From a trade unions perspective, the approval of the plant is also a shining local example of a "just transition" away from coal to renewables.
"This is a just transition success story," says Sharan Burrow, general secretary of the International Trade Union Confederation.
"Workers, formerly employed at the coal-fire power stations, had a simple demand. A just transition for the remote community and a zero-carbon future for people everywhere.
"The community, workers and their unions were at the heart of making demands of companies and the state and federal government for a sustainable future for their town – and they won."
According to Premier Weatherill, the maximum government load is 125MW, which would allow the plant to supply other customers. It will also contribute to a more secure local energy grid.
Energy experts are likely to keep a keen eye on the Aurora Solar Energy Project too, to see how solar thermal might contribute to the energy mix in the future.
For the people of Port Augusta, their city is on the cusp of reinvention at long last.