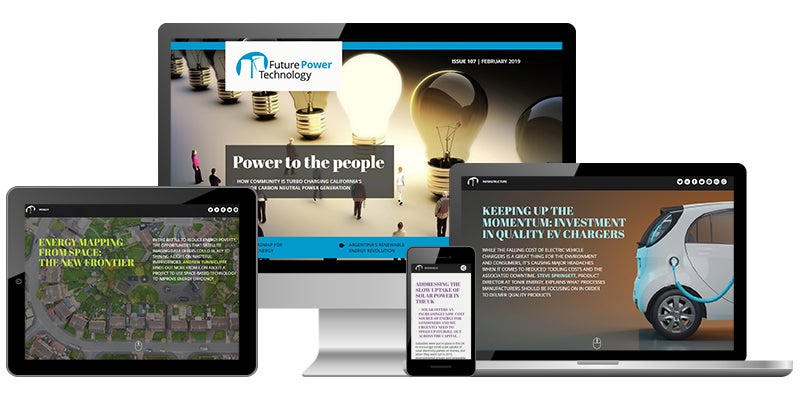 Future Power Technology is now available on all devices. Read the new issue here.
California recently announced its plans to reach a target of 100% renewable energy sources by 2045, funded at least partly by community choice aggregation. These partnerships allow local communities to make their own choices about how they get their energy and what they do with it, often resulting in more rapid shifts than deals struck by government. We find out how they work and whether this funding model will be enough?
In nuclear, we take a closer look at the IAEA's new tool to help build 'roadmaps' for nuclear power, consider whether Belgium can cope without nuclear power, hear from Tonik Energy about the importance of investing in quality chargers for electric vehicles, and profile Japan's energy security plan to 2030, in association with GlobalData.
Plus, we shine a spotlight on Argentina's rapidly changing energy market, take a closer look at how the UK's energy market could manage a prolonged calm, cold and cloudy snap, and find out whether a new partnership between utility E.ON, the European Space Agency and Astrosat could be the key to sending terrestrial energy efficiency into the stratosphere.
In this issue
How community is turbo charging California's drive for carbon neutral power generation
Giving power to the people is a mantra we've all likely heard. But community choice aggregators in California are really doing that. How are they being implemented and what been the often unintended effect? Andrew Tunnicliffe finds out more from Michael Ferguson, director of sustainable finance, Standard & Poors.
Read more.
Mapping the future: IAEA paves the way for nuclear transition
The International Atomic Energy Agency has developed a new tool to help build 'roadmaps' for nuclear power, identifying how countries can benefit from innovations in technology and infrastructure. Julian Turner assesses its role in influencing future energy decisions.
Read more.
Looking towards Belgium's nuclear-free future
The recent closure of six out of seven nuclear reactors raised concerns over the ability of Belgium to cope without its nuclear power. Talal Husseini considers what lessons the power industry can learn when looking forward to the 2025 nuclear phase-out plan.
Read more.
How private investment is powering Argentina's renewable energy revolution
Argentina recently entered the top ten on the Ernst & Young Global Renewable Energy Index for the first time and is on target to produce 20% of its electricity from renewables by 2025. Julian Turner takes a closer look at the country's clean energy policies.
Read more.
Energy security: can the UK handle a calm, cold, cloudy snap?
The perennial argument for maintaining significant fossil fuel capacity is this: when the wind doesn't blow and the sun doesn't shine, renewables on their own are not enough to keep the lights on. But does this argument hold true? Molly Lempriere investigates.
Read more.
Energy mapping from space: the new frontier
In the battle to reduce energy poverty, the opportunities that satellite imaging data offers could be key to shining a light on wasteful inefficiencies. Andrew Tunnicliffe finds out more from E.ON about a project to use space-based technology to improve energy efficiency.
Read more.
Keeping up the momentum: investment in quality EV chargers
While the falling cost of electric vehicle chargers is a great thing for the environment and consumers, it's causing major headaches when it comes to reduced tooling costs and the associated downtime. Steve Springett, product director at Tonik Energy, explains what processes manufacturers should be focusing on in order to deliver quality products.
Read more.
It's time to take stock of Japan's energy market
Japan's energy security plan to 2030, as outlines in a government-endorsed energy blueprint, is burdened by national challenges and international obligations against the shadow of the 2011 Fukushima Daiichi nuclear power station accident. GlobalData reports.
Read more.
Preview – Future Power March
In October, India's largest power utility NTPC announced that it will use biomass to co-fire all its coal-based power plants. The decision is a bold move that will help curtail air pollution, backed by a 2017 policy that promotes biomass utilisation for power generation. We speak to the analysts to understand the impact of this move on India's energy mix.
We also consider whether fusion energy could be enough, after MIT announced that its Sparc reactor could begin producing energy from nuclear fusion by 2025, but at a much lower wattage than traditional fission reactors, and find out more about a new energy tower from Energy Vault that uses basic physics to store energy.
Plus, we take a closer look at China's mega transmission line project, learn more about a new device developed by Stanford University scientists that can harvest solar and space energy at the same time, and speak to start-up Robial about its plans to convert urine and other types of wastewater in to electricity.