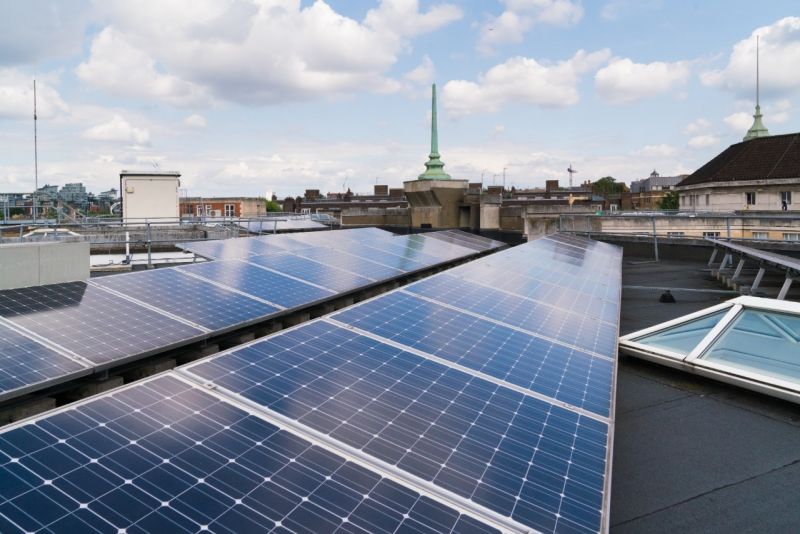 A perovskite solar cell has a perovskite-structured compound, usually a hybrid organic-inorganic lead or tin halide-based material, used as a light-harvesting active layer. Other materials often used to manufacture solar perovskites include methylammonium, lead halides, and silicon.
The beneficial properties of this technology include broad absorption, fast charge separation, long transport distance of electrons, and long carrier separation lifetime. According to Perovskite Info, a knowledge hub for perovskite data and commentary, these properties have attracted investor interest and positioned solar perovskites as a front runner technology to exceed the solar energy capturing power of solid-state solar cells.
While they hold great potential, this type of solar cell technology is still in its early stages of commercialisation due to their short lifespan and the fact that they deteriorate quickly when in contact with moisture.
Recent studies focused on improving the technologies have found that perovskite semiconductors are significantly defect-tolerant, but flaws at the surface of the active perovskite layer require further research.
Researchers are also working on new cell designs and encapsulation strategies to protect the technology in harsher environments, and simulate aging processes in an attempt to figure out how long perovskite solar cells will last on rooftops.
Another significant drawback is still their overall cost, especially as the most common electrode material in perovskite solar cells is currently gold, making them significantly expensive.
Lastly, as highly efficient perovskites are made with a small amount of lead, researchers are also focused on finding other successful compositions and new encapsulation strategies in order to tackle issues with lead toxicity.
Here are four companies working to perfect perovskite solar cell technology.
Oxford PV, Oxford, UK
Oxford PV, established in 2010 as a spin-out from Professor Henry Snaith's University of Oxford lab, is one of the biggest projects working to commercialise a perovskite-based solar cell.
In December 2018, Oxford PV announced that the company's 1cm2 perovskite-silicon tandem solar cell has achieved a record of 28% conversion efficiency, certified by the National Renewable Energy Laboratory, following which the team went on to pursue its new objective – reaching efficiency beyond 30%.
Reportedly, the Oxford PV solar cells are both efficient and stable with similar company devices passing a minimum of 2,000 hours of damp heat reliability testing.
As well as the company's research and development site in Oxford, UK, Oxford PV has extended to an industrial pilot line near Berlin, Germany, which is working to achieve a quick transfer of perovskites to industrial scale silicon solar production in preparation for full commercial manufacturing.
Hunt Perovskite Technologies, Dallas, US
Hunt Perovskite Technologies was launched in 2013 as part of a privately-owned group of companies managed by the Ray Hunt family that mainly works in the oil and gas sector.
Hunt Perovskite specialises in stable metal halide perovskites in single-junction solar panels for the utility market. The company has come up with its own efficient perovskite solar cell and an ink-based manufacturing process which Hunt Perovskite demonstrated in 2019, reportedly catching the attention of the International Electrotechnical Commission.
While the company produced a highly efficient metal halide perovskite solar cell in 2014 that can reportedly reach energy efficiency levels of 18%, its early tests showed issues with the materials used. For this reason, Hunt Perovskite is now focused on exploring other applications, which use an updated stable and efficient perovskite semiconductor.
Microquanta Semiconductor, Hangzhou, China
In October 2019, Chinese operator Microquanta Semiconductor announced that its perovskite technology has been proven to achieve 14.24% efficiency with a large-area (200x800cm2) perovskite solar module, reportedly passing a test by the European Solar Test Installation agency. The company also announced that it has already developed a 20MW perovskite module pilot line as it is preparing for a mass production facility in the city of Quzhou, China.
Microquanta was established in 2015 by three students returning from their studies abroad, and is focused on the development of a stable perovskite cell. Before its most recent achievement, the company reached a stable rate of efficiency of 17.3% with its perovskite solar module in 2018, which prompted the team to shift its focus to large-area devices.
The Microquanta team initially started with a private investment, after which the local government and China's R&D funding programme helped fund the project. In April 2019, state-owned energy company China Three Gorges made an investment in Microquanta, supporting further research in commercialising the company's perovskite solar devices.
Energy Materials, Rochester, US
Energy Materials had been working on perovskites development for about ten years when it was selected by the US Department of Solar Energy Technologies, in December 2019, to advance perovskite photovoltaic module research and development.
The Energy Department granted the company $4m of funding for the creation of stable perovskite solar modules. The investment shifted the company's focus to high speed printing of entire perovskite devices on paper-thin flexible glass, including transparent conductor layers produced by costly vacuum deposition techniques. Energy Materials is now entirely dedicated to developing its BackbonePV perovskite panel on high-speed manufacturing lines.
In a statement, the company said that its "high speed printing process can lower the cost of building solar panel factories by 95% and it can reduce the selling price of high efficiency modules by 50%." The team is also confident that "its gigawatt scale factories can be soon replicated around the world to meet local demand while helping the industry to reach unsubsidised $0.02 kWh solar energy."
Energy Metals' work is also motivated by the United Nations' objective for solar energy to be expanded from its current 700GW installed capacity to more than 16TWglobally in the next 30 years.