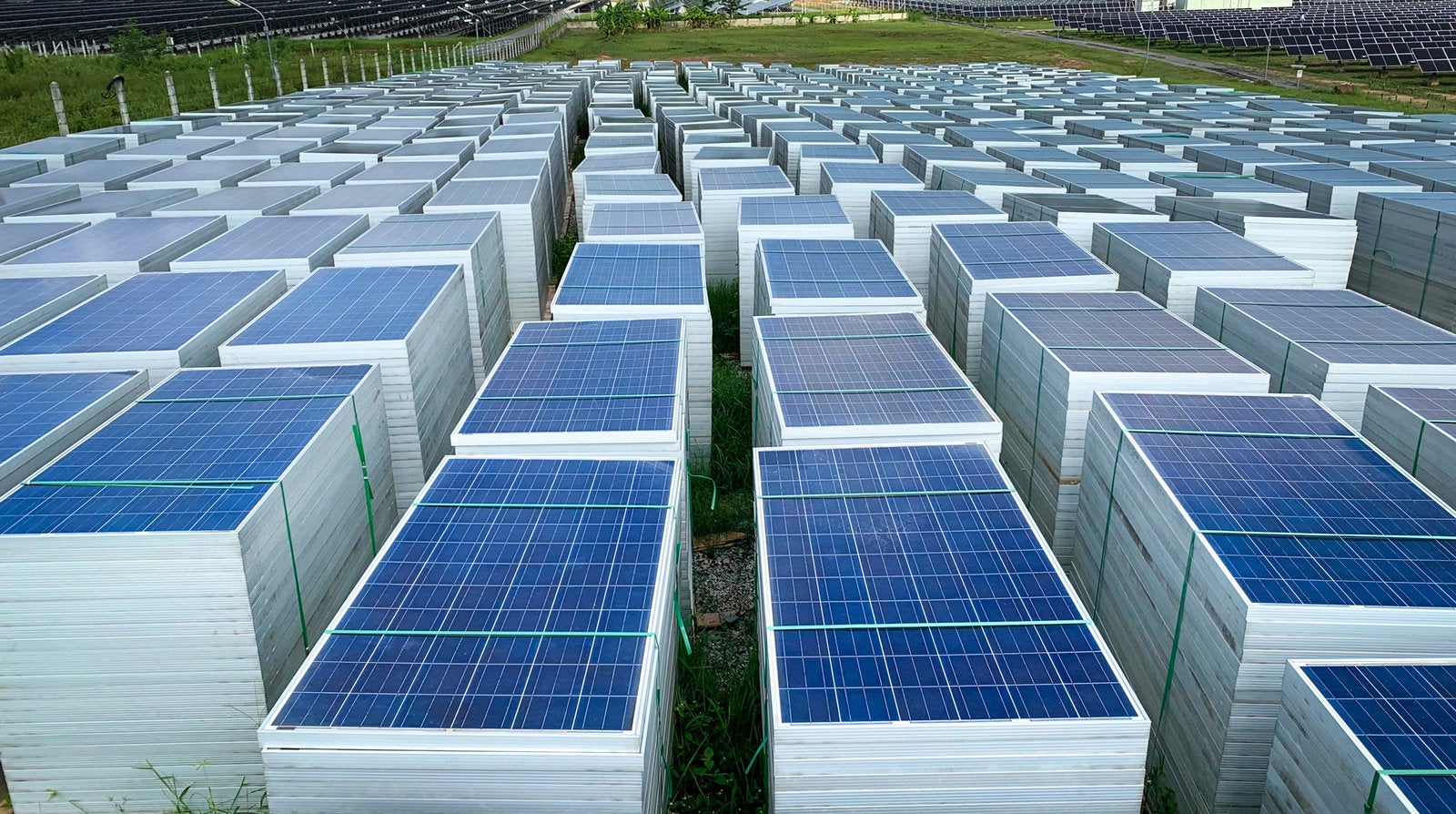 We live in a time when climate change has started to dictate how the world must change. Renewable energy has become more and more attractive to energy firms, not just because it is the cheaper alternative to fossil fuels, but also to keep up with environmental promises made over years. In order to adapt to the harmful environmental changes we observe regularly and to keep the planet from warming more than 1.5°C above pre-industrial levels, as agreed in the Paris Climate Agreement change must come.
One such favourable renewable alternative is solar photovoltaics (PV) cells, manufactured for large power plants as well as homes. Over the years, generation capacity has increased rapidly due to government policy support and sharp cost reductions for solar PV and wind energy.
But due to the rapid growth in solar PV demand, the waste generated by them has also increased. Even though the waste from end-of-life solar panels passes through multiple opportunities to recover valuable materials, for the longest time, companies believed that it was not reasonably achievable.
Growth of the global solar energy industry
The growth of the solar PV market has massively increased since the early 2000s, with global installed PV capacity reaching 222GW by the end of 2015. According to the International Renewable Energy Agency (IRENA), capacity is expected to reach 4,500GW by 2050.
Some countries like China, India, the US, Japan and Germany are expected to achieve higher cumulative deployment rates of solar PV. This would create around 1,731GW of capacity in China, 600GW in India, 600GW in the US, 350GW in Japan and 110 GW in Germany.
However, due to this, the world will see increased volumes of decommissioned panels. Most PV panel waste ends up in landfill, making policy actions necessary to address the challenges of solar PV waste. "Countries with the most ambitious PV targets are expected to account for the largest shares of global PV waste in the future," the IRENA report reads.
Currently, only the EU has adopted PV-specific laws to manage waste, but the US and Japan have included some solar panel materials in their general waste regulations. According to IRENA, the recoverable material could be used for producing new PV panels or sold into global commodity markets, "thus increasing the security of future raw material supply".
Electricity and waste, generated in the US
In 2020, solar panels contributed to around 40% of all new electricity generation capacity in the US. Around 3.3% of the electricity produced in the country in 2020 came from solar technologies, according to data from the US Government's energy department.
By 2030, the country is expected to produce up to 1 million tonnes of total solar panel waste, says the US Environmental Protection Agency (EPA), an agency of the US Government. To understand how significantly this affects the country's total waste, the EPA figures show that municipal solid waste in 2018 was close to 292.4 million tonnes. Only 10% of solar panels in the US are recycled, and federal regulations do not mandate it.
Most of the materials in a solar panel can be recycled. Around 75% of solar panels' weight comprises of glass, a relatively easy-to-recycle material. The EPA says that crystalline-silicon solar technology represents most of the solar panel market share. Other materials like the aluminium frame, copper wire and the plastic junction box used in the crystalline-silicon technology can also be recycled.
The small field of solar recycling
According to the EPA, the total value of the recoverable raw materials from solar panel waste globally will reach about $450m by 2030, almost equivalent to the cost of raw materials needed to produce nearly 60 million new panels. The pace of transition towards renewable energy has led many to ignore renewable's detrimental effect on global waste generation. Instead of the waste being dumped in landfills and disposed of irresponsibly, finding ways to recycle and reuse the materials has become both important and lucrative.
Some companies, like US solar recycling company SolarCycle, have started to act on the waste produced by the solar industry. SolarCycle is one of eight companies in the US listed by the Solar Energy Industries Association (SEIA), a US non-profit trade association of the solar-energy industry, capable of offering recycling services to solar and storage installers. Recently, it signed a deal with major Danish renewable developer Ørsted to recover materials from expired solar panels.
"Recycling solar modules can contribute to a domestic supply of materials essential to [producing] new solar panels, including glass, silicon, and valuable metals such as silver, copper and aluminium," SolarCycle said in a statement. "This reduces waste and mining of raw resources that must be extracted and refined."
Ørsted and SolarCycle partner to tackle renewables recycling
In June 2023, renewable energy company Ørsted announced a partnership with SolarCycle to process and recycle solar panels in the US. "Addressing the most critical waste problem of the solar industry while mitigating social and environmental impacts in the supply chain is essential," said Ingrid Reumert, Ørsted's senior vice-president, in a statement. "This is an industry-first commitment and complements our already existing ambition to reuse or recycle all wind turbine blades."
According to the company, Ørsted has already recycled 4,000 panels even though Ørsted's US solar projects are still under development.
"We are thrilled to ensure crystalline-silicon solar modules are disposed of properly and to support a company spearheading solutions on behalf of the solar industry. Not only does this advance sustainability for Ørsted and the industry, but it also strengthens the American renewable energy supply chain," said David Hardy, group executive vice president and CEO of Ørsted, America.
SolarCycle believes its recycling technology could extract 95% of the value from end-to-end solar panels. For panels that cannot be recycled, the company will run them through an advanced facility in Texas, removing the aluminium frame and junction box and shredding the remainder of components. The shredded materials are processed separately to recover metals such as silver and copper and separate out the plastics. The company then returns the materials to the supply chain, including domestic solar manufacturers.
However, this does not take away from the hazardous solid waste produced in the manufacture of solar panels. Some metals, like lead and cadmium, present harmful effects on human health and the environment. However, under the Resource Conservation and Recovery Act (RCRA), public law in the US does provide a framework for managing hazardous waste like lead and cadmium.
Even though reusing and recycling solar panels needs more awareness and incentive, the US government has introduced regulatory frameworks and policies to manage recyclable solar panel materials in some states. California, Hawaii, New Jersey, North Carolina, and Washington are among those that have enacted laws impacting solar panel waste, and as the transition continues, the federal government will likely take greater measures to improve solar recycling.