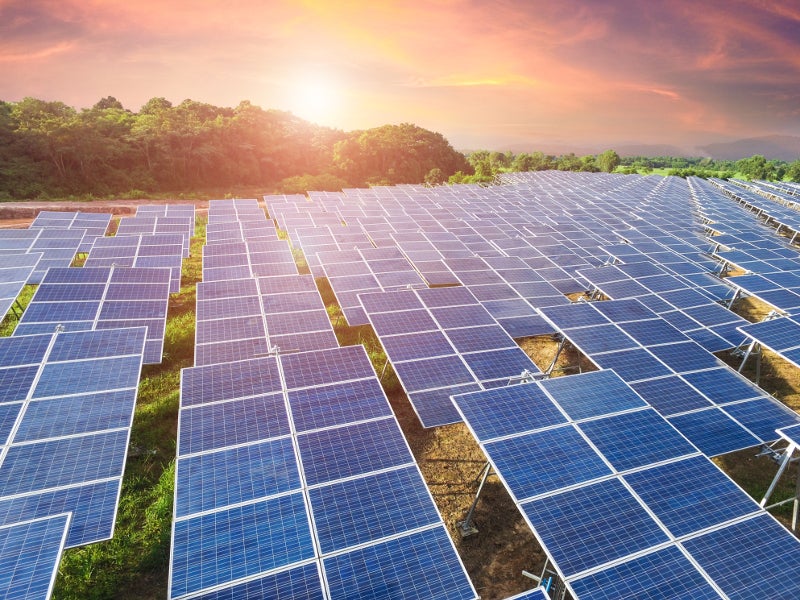 Power Technology lists ten most popular tweets on solar power in November 2019.
The list is based on data procured from GlobalData's Influencer Platform, which filters top tweets from industry-specific influencers based on pre-defined parameters. The influencers are picked following an in-depth analysis of their relevance, network strength, engagement and participation in latest emerging trends.
Top tweets in solar power in October 2019
1. Mike Hudema's tweet on bike lane covered by solar panels
Mike Hudema, a Canadian climate activist, tweeted a video of a dedicated bike lane developed in South Korea. The bike lane is covered by solar panels sheltering the bike riders from sunlight, as well as supporting clean energy generation.
The dedicated lane extends over a length of 20 miles (32.2km) from Daejon and Sejong. Cyclists can access the lane through underground tunnels.
Wow. In South Korea, built this bike lane covered by #solar panels. Cyclists are isolated from traffic, protected from the sun, and produces #cleanenergy at the same time!

We have the solutions, implement them. #ActOnClimate#Climate #energy #solutions #cdnpoli #GreenNewDeal pic.twitter.com/L8FW3gSIZJ

— Mike Hudema (@MikeHudema) November 14, 2019
Username: Mike Hudema
Twitter handle: @MikeHudema
Retweets: 925
Likes: 1,887
2. Mike Hudema's tweet on India's investments in solar power
Another video from the World Economic Forum shared by Mike Hudema also generated high interest among Twitter readers. The video notes that India, the third-largest producer of greenhouse gases globally, has witnessed steep surge in investments in the renewable sector. Although the country generates three-quarters of electricity through coal, its renewable energy capacity is growing at an accelerated rate.
India has also built one of the largest solar plants in the world and is on-track to fulfil its obligations under the Paris climate agreement.
For the first time ever India is investing more in #solar than in coal. Let's speed it up.

We have solutions to the #climate crisis. Let's implement them. Time for a #GreenNewDeal.#ActOnClimate #climate #energy #go100re #PanelsNotPipelines pic.twitter.com/Tsexwxd2Ua

— Mike Hudema (@MikeHudema) November 20, 2019
Username: Mike Hudema
Twitter handle: @MikeHudema
Retweets: 454
Likes: 1,000
3. Assaad Razzouk's tweet on Vietnam's growing renewable energy capacity
Assaad Razzouk, CEO of Sindicatum Renewable Energy, tweeted about the increase in Vietnam's renewable energy capacity over the years. Vietnam's installed solar and wind energy capacity increased from 165MW in 2016 to 343MW in 2018 and then shot up by 16 times to 5,500MW in 2019.
Razzouk noted that favourable policy measures and decline in the costs of solar and wind contributed to the jump. He opined that the capacity increase would have been higher if a $600m investment in annual fossil-fuel consumption subsidies was not made.
The jump is due to a combination of factors: Favourable policy measures coupled with spectacular drops in the costs of solar and wind. The jump would have been even higher without $600m of annual fossil-fuel consumption subsidies

— Assaad Razzouk (@AssaadRazzouk) November 19, 2019
Username: Assaad Razzouk
Twitter handle: @AssaadRazzouk
Retweets: 114
Likes: 205
4. Mark Z. Jacobson's tweet on solar power and big batteries
Mark Z. Jacobson, a professor at Stanford University, shared an article on how solar power and big batteries threaten natural gas's future. The article highlights that with decreasing usage of coal in electricity generation, natural gas plants and solar energy and batteries remain to be the major competitors.
A minimum of 1GW of solar power is expected to be added annually over the next five years in Texas alone, according to the article. Many of these solar facilities will include battery storage systems, which can be used during peak demand.
Solar power and big batteries pose threat to natural gas's future

"In the Texas electricity market..almost all new generation under construction is either wind or solar. Many of the new solar facilities will eventually include batteries"https://t.co/7GjOpDdG5e @cltomlinson

— Mark Z. Jacobson (@mzjacobson) November 1, 2019
Username: Mark Z. Jacobson
Twitter handle: @mzjacobson
Retweets: 228
Likes: 410
5. Dr Thomas Hillig's tweet on a floating solar farm in China
Dr Thomas Hillig, the founder of energy consultant firm THEnergy, tweeted a video of floating solar farm in the Huainan City of China. The 40MW floating farm features 165,000 solar panels.
It rests over a lake formed through accumulated rain water in a coal mine subsidence area. The presence of water underneath the panel cools them, thereby increasing the efficiency. The solar farm is capable of reducing carbon dioxide emissions by 49,000 tonnes.
#Floating #solar has become huge!#EUW19 #PGE19 #Renewables #ClimateChange pic.twitter.com/qmxCDVv5zI

— Dr Thomas Hillig #️⃣#Sustainability #Energy #Solar (@THEnergyNet) November 6, 2019
Username: Dr Thomas Hillig
Twitter handle: @THEnergyNet
Retweets: 175
Likes: 338
6. Simon Evans' tweet on IEA World Energy Outlook
Simon Evans, the deputy editor of UK-based website Carbon Brief, tweeted an article on the International Energy Agency's (IEA) World Energy Outlook 2019, which highlighted the revised outlook shared by the IEA that showed an increase in global solar capacity.
The IEA attributes the improvement to better policy conditions. Solar power capacity is projected to grow by 23% and wind power capacity by 11% by 2040, according to IEA.
Yet again, the IEA World Energy Outlook has revised its solar capacity growth figures upwards.

As ever, it mainly puts this down to improved policy conditions rather than overestimated costs.https://t.co/gIvAdaVpeM pic.twitter.com/TTYvx8rKz7

— Simon Evans (@DrSimEvans) November 13, 2019
Username: Simon Evans
Twitter handle: @DrSimEvans
Retweets: 52
Likes: 85
7. Assaad Razzouk on Heliogen's concentrated solar power technology
Assaad Razzouk tweeted a news report detailing a solar technology developed by California-based start-up, Heliogen. The news report stated that the company has developed an artificial intelligence (AI)-powered technology that generates concentrated solar thermal energy of up to 1,000°C, significantly breaching the previous 300°C mark.
The technology will enable the usage of concentrated solar power technology in rigorous industrial processes that traditionally use coal as an energy source, according to the article. It can be used in steel, cement and other industries and benefit the environment by cutting carbon emissions.
Tech start-up #Heliogen created AI-powered Concentrated Solar Power that reaches 1000'C, far exceeding previous 300'C mark

CSP is now powerful enough to be used in steel, cement and other industry

We have the solutions for the #ClimateEmergencyhttps://t.co/8bRQfXoAWA #climate pic.twitter.com/GIC5EGFrg3

— Assaad Razzouk (@AssaadRazzouk) November 24, 2019
Username: Assaad Razzouk
Twitter handle: @AssaadRazzouk
Retweets: 84
Likes: 115
8. Arik Ring on eco-friendly solar lighting
Arik Ring, a consultant and clean energy enthusiast, shared a video on eco-friendly lighting called Solatube powered by solar energy. The solution features a rooftop dome, which procures sunlight and transmits it to interior spaces of a building through tubes made of reflective material.
The system leverages specially designed fixture lens and optical technologies to disperse natural light, thereby reducing energy consumption. Further, Solatube uses solar cells to store energy, which can be utilised at night.
The Best #Light?#Natural #Solar Light 🌞#Sustainable & #Energy Efficient#ZeroCarbon = Great Light!@solarimpulse#RenewableEnergy #CleanEnergy #EnergyTransition #CO2 #ClimateAction #ClimateChange #Climate #PollutionKills #EndCoal @hanslak @wolfiemousepic.twitter.com/r8ncLD14qN

— Arik Ring – Energy Engineering Expert (@arikring) November 9, 2019
Username: Arik Ring
Twitter handle: @arikring
Retweets: 38
Likes: 50
9. Bill McKibben's tweet on Bangladesh's push on coal energy despite the country's solar potential
Author and environmentalist, Bill McKibben, shared a report, criticising Bangladesh's plan to move forward with coal power expansion. The move is funded by foreign investors, the report noted. If all planned coal-based projects under the plan are built, the country's existing coal capacity will increase by 63 times to 33.2GW and place the country among the worst polluters globally.
The report noted that the plans were conceived despite protests from local environmentalists. It also argues that the South Asian nation has significant solar power potentiality and can generate up to 53GW of solar power as a eco-friendly and low-cost alternative to coal energy.
Investors pushing huge coal expansion for Bangladesh–which may be the nation most vulnerable to global warming, and where solar has already brought most people powerhttps://t.co/pS3rhDfDQt

— Bill McKibben (@billmckibben) November 6, 2019
Username: Bill McKibben
Twitter handle: @billmckibben
Retweets: 85
Likes: 143
10. Mark Z. Jacobson on the upcoming largest solar plant in the US
Mark Z. Jacobson tweeted an article about an upcoming 400MW solar power plant in the US. Construction of the plant was approved by the city of Los Angeles and is being developed on 2,650 acres of land in Kern County.
The solar power plant will supply electricity to more than 280,000 homes across Los Angeles and store up to 1,200MWh of energy.
Largest #Solar + Battery Storage Plant in US Approved by Los Angeles City Council

– 400 MW PV, 1200 MWh of storage
– Will power 280,000 homeshttps://t.co/s0AyCv4nCb @SolarFred @SolarIndustry @SEIA @votesolar @SolarPowerWorld

— Mark Z. Jacobson (@mzjacobson) November 7, 2019
Username: Mark Z. Jacobson
Twitter handle: @mzjacobson
Retweets: 46
Likes: 72