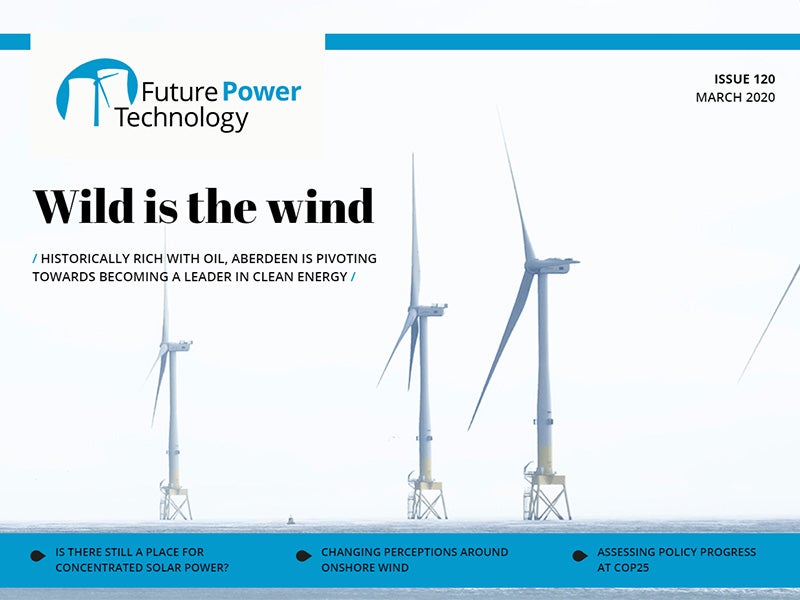 Future Power Technology is now available on all devices. Read the new issue here.
Concentrated solar power (CSP) has many advantages over more established PV technologies, but the scale and complexity has driven a growing gap in costs between CSP and other renewable technologies. Is there still a place for CSP in the solar energy mix?
Also, we look at Aberdeen's ambitions to transition into a clean energy leader, examine the rise and fall of attitudes to onshore wind, and report back from COP25.
Finally, we profile Japan's renewable sector, hear from Ecohz about electric vehicles' success in Norway, find out about the world's first digital twin of a hydroelectric power station, and speak to Statera about expanding the role of back-up energy in the UK. 
In this issue
Why thinking small could help reignite the concentrated solar power sector
Concentrated solar power accounts for only a fraction of the overall green energy market, but recent research suggests smaller-scale designs could help revitalise interest in the sector. Julian Turner talks to Luis Crespo, president of Protermosolar, Spain's solar thermal electricity association.
A clean start: could Aberdeen become a destination for renewables?
As a gateway to the North Sea, Aberdeen has been pivotal to the success of the oil and gas industry, but much is now being made of the city's potential to become a clean energy hub using much of its existing infrastructure. Julian Turner talks to Maggie McGinlay, deputy CEO, Opportunity North East.
Understanding the public love-hate relationship with wind power
The public perception of wind power has shifted over the last four decades but understanding why that is has been a major challenge. Andrew Tunnicliffe looks back at how public concerns have shaped the sector and how they can be addressed.
COP25: assessing progress in renewable energy policy
The COP25 UN conference held in Madrid in December 2019 aimed to tie up outstanding issues related to full implementation of the global climate change strategy. Yoana Cholteeva asks, how much is there still to do, and what role for renewables does their vision require?
New laws and new targets: renewable power in Japan
Japan plans to increase its reliance on renewable power to 24% of its energy mix by 2030, more than double its current production. With new laws in place to encourage renewable projects, JP Casey profiles the country's clean energy sources, and consider how realistic its 2030 goals are.
EcoHZ on how electric vehicles found success in Norway
Electric vehicles have found a home in Norway, with the country's Electric Car Association reporting that there were 230,000 registered electric cars on its roads by May 2018, and that battery and hybrid-powered vehicles held a 50% market share. JP Casey speaks to Tom Lindberg, CEO of Norwegian energy solutions firm EcoHZ, about the country's electric vehicle journey.
Inside the world's first digital twin of a hydroelectric power station
Technology provider Akselos is creating a structural digital twin of energy utility ESB's aging Turlough Hill hydroelectric power station in County Wicklow, Ireland. The project, a world first, hopes to extend the operational life of the colossal asset and help it find new modes of operation. Heidi Vella finds out more
In pursuit of alternative back-up energy: a closer look at power-to-gas technologies
Power outages could affect the energy grid at any time and cause severe damage, but what are the backup options capable of maintaining consistent energy supplies? Yoana Cholteeva takes a look at the power-to-gas method.
Preview – Future Power April
As the cultivation and sale of cannabis continues to be legalised across North America and elsewhere, we ask what the implications are for energy grids.
Also, we consult experts to get the full story on the UAE's Barakah nuclear power plant, investigate whether coal has become uninsurable, and look at sustainable energy pledges from across the tech sector.
Finally, we learn about constraint payments for wind farms, report on a team from Yale's efforts with osmotic energy, speak to University of Bristol researchers about their plan for "near-infinite" nuclear power, and examine Turkey's solar power market.