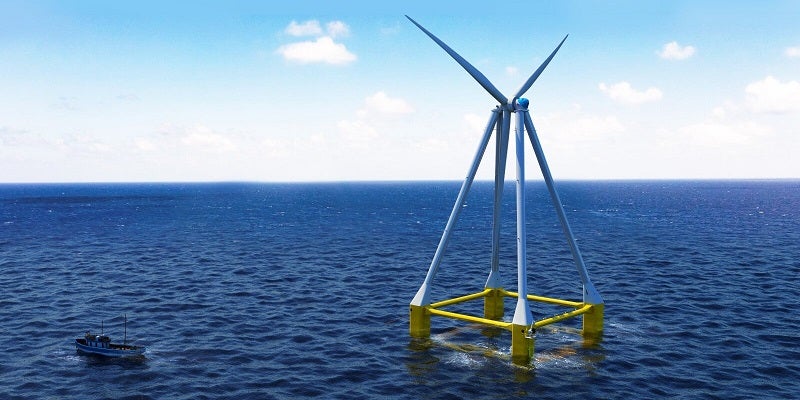 Spanish renewable energy firm ACCIONA Energía has acquired a 24% stake in France-based start-up Eolink, which develops floating foundations for offshore wind farms.
Acciona Energía invested in Eolink by participating in a financing round held by the French company.
The financial terms or other details of the investment have not been disclosed by the company.
Eolink will use the proceeds from the financing round to boost its floating offshore wind technology and make its first 5MW unit commercially viable.
Measuring 150m in height, the company's floating wind turbine is designed to provide enough power to meet the needs of 3,500 homes.
Eolink plans to install its first pre-commercial floating wind turbine at the SEM-REV test site, which is located offshore from Le Croisic in France, next year.
The company has created a pyramidal floating foundation that is designed to naturally rotate and face the wind, optimising costs and maximising its performance.
The technology is intended to be suitable for offshore wind installations in countries with deep coastal shelves, such as Spain and Portugal.
It is expected that Spain will install up to 3GW of offshore wind by 2030 while Portugal recently announced a first offshore auction with the target of installing up to 4GW by 2026.
The total installed offshore wind capacity is forecasted to reach 235GW by 2030. Of this, 60GW would be installed within the European Union.
The funding from ACCIONA Energía is expected to strengthen Eolink's financial structure for its development in the short-term and medium-term.
Earlier this month, Acciona Energía began construction works for the MacIntyre complex, a 1,026MW wind farm in Queensland, Australia.
The A$2bn ($1.4bn) wind complex includes two wind facilities, MacIntyre and Karara.
ACCIONA Energía owns a 70% stake in the 923MW MacIntyre wind farm, with the remaining 30% interest owned by Ark Energy.
The Karara wind facility is owned by Queensland's state-owned energy company, CleanCo.