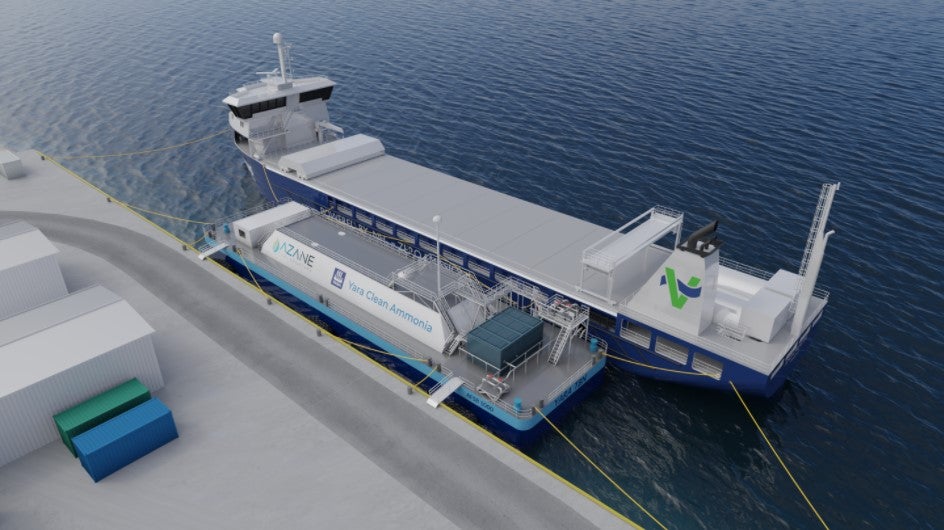 Norwegian fertiliser company Yara has announced plans to establish a network of ammonia terminals, creating some of the first infrastructure for ships to refuel with the hydrogen product.
The company has ordered 15 ammonia terminals from Norway's Azane Fuel Solutions for deployment throughout the country. It believes these will "sufficiently cover the Scandinavian market" by 2024. The terminals, both floating and land-based, will have facilities for ammonia storage, processing, handling, and transfer. They will also have facilities for loading and unloading ammonia-based trucks.
Fertilisers require ammonia for its nitrogen content, but the chemical can also act as convenient, relatively dense hydrogen storage. Some hydrogen generation companies have chosen to store power in ammonia for its convenience, but ships can also use the chemical directly as a power source. While ammonia infrastructure already exists, it would need to expand massively to become part of the energy cycle.
Yara's Clean Ammonia unit head Krogh Ankarstrand said: "These bunkering terminals are key pieces of the puzzle to ensure reliable and safe ammonia supply as zero-emission fuel. Yara is excited to own and operate the first operational ammonia fuel terminals in the world."
Norway's state-owned power company Equinor has made a significant push toward hydrogen generation and consumption in the North Sea. In 2020, the company joined a project to create green hydrogen on a Netherlands offshore wind farm. It has also committed to a blue hydrogen facility in the UK.
Also today, Norwegian ship registering company DNV gave an in-principle approval to the first ammonia-fuelled transport ship for cars and trucks. The Shanghai Merchant Ship Design and Research Institute developed the ship from a current LNG-powered vessel. Company spokespeople say this design "has been very popular and successful", with 29 new orders in 2021.
DNV regional manager Norbert Kray said: "Currently, car carrier newbuilding orders are 100% LNG dual-fuelled, in which SDARI takes a majority share. With this new ammonia-fuelled, 7,000 CEU pure car and truck carrier design, SDARI is further cementing its leading role in the industry. As DNV, we are very proud to be part of this progressive journey and will continue to support the industry with our technology and expertise in ammonia as ship fuel."