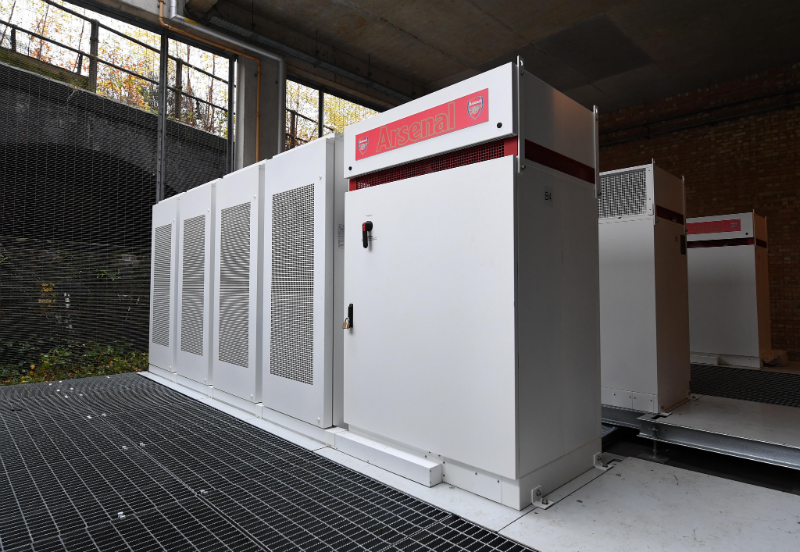 Arsenal football club has unveiled a new secret weapon against climate change: a battery storage system developed by UK battery pioneer Pivot Power. Arsenal's battery system can save enough energy to power the 60,000 capacity Emirates stadium for an entire match, which is the equivalent of running 2,700 households for two hours.
The storage technology allows Arsenal to avoid purchasing energy at peak prices, instead stockpiling electricity for use when costs are up to three times more expensive, particularly during a matchday.
Arsenal managing director Vinai Venkatesham said: "This is a big step forward for us in being efficient with energy usage and it builds on our work in reducing our carbon footprint as an organisation. We have been powered by green energy since 2016 thanks to Octopus Energy, and the battery storage system will support our efforts further."
The 3MW/3.7MWh battery storage system is a first for UK football, and will not only assist Arsenal in reducing its electricity bills but also allow the club to earn extra funds by providing flexible capacity for the grid.
Through Arsenal's battery system, the Emirates stadium can store and sell energy back to grid, easing pressure on UK energy at peak demand, which could be vital while large-scale renewable efforts such as electric vehicles are entering the market.
The Emirates stadium has committed to cutting its carbon footprint since 2016, when it signed a contract with solar company Octopus Energy to use 100% renewable energy.
Arsenal has included installing LED floodlights that use 30% less electricity than traditional ones. The club also recycles 80% of match day waste, with all food waste sent to an anaerobic digestion plant to be turned back into energy for the club.
In the past year, the football club has saved 7 million kilograms of carbon dioxide entering the atmosphere, enough to fill up the stadium almost four times.
"Arsenal is showing how football clubs and other big power users can save money and support the UK's climate change and clean air targets," said Pivot Power CEO Matt Allen. "Batteries are central to creating a cost-effective, low-carbon economy and we are keen to help government, local authorities and businesses seize the opportunities they offer."
Pivot Power is responsible for operating Arsenal's battery system for the next 15 years, and there is the option to add an additional 1MW/1.2MWh of capacity next summer.
Any income generated will be shared between the battery developer, Arsenal, and investor Downing LLP. Pivot Power is also developing grid-scale batteries and rapid charging units for electric vehicles.
With the unveiling of the new battery today and three points against Bournemouth yesterday, that makes two wins for Arsenal football club in the last two days.