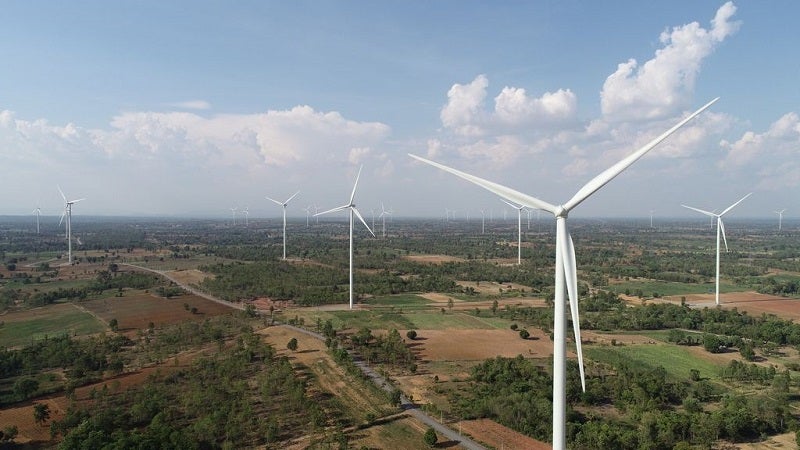 The Asian Development Bank (ADB) has announced that it will invest $98.7m (THB3bn) in the first-ever green bond issuance for Thai company Energy Absolute. In total the bond will have an issuance value of almost $330m (THB10bn).
Energy Absolute states that the money will be used to finance the 260MW Hanuman windfarm in the Chaiyaphum province of Thailand, which will offset the country's annual carbon emissions by 200,000t per year.
It is only the second Climate Bonds Standard-certified bond issued to a Thai company and the first ever issued for a windfarm in Thailand.
The agreement was signed in Bangkok by ADB deputy director-general of Private Sector Operations Christopher Thieme and Energy Absolute deputy CEO Amorn Sapthaweekul.
Thieme said: "Thailand has ample renewable energy resources and its green and climate bond market has tremendous potential.
"This maiden green bond issuance by Energy Absolute will contribute to the evolution of that market while supporting the clean energy ambitions of Thailand's Power Development Plan by underpinning the growth of wind power generation."
The investment by ADB is expected to further support Thailand's ongoing efforts to reduce carbon emissions.
By 2036, the energy generated from renewable energy sources is expected to contribute 15% to 20% of Thailand's total energy production.
Energy Absolute deputy CEO Amorn Sapthaweekul said: "The green bond issuance benefits our company through lower cost of financing and demonstrates our strong commitment to sustainable development including environmental and social dimensions.
Energy Absolute's stock price fell by nearly 1.5% from THB51.25 ($1.69) to THB50.25 ($1.66) per share on the Stock Exchange of Thailand on 17 October, giving the company a market capitalisation value of THB187.43bn ($6.2bn).
Energy Absolute share price in 2019
Asian Development Bank
The Asian Development Bank is a leading lender to governments and private companies in the energy sector, lending on average between $4-5bn a year.
It also works with non-government organisations such as USAID and agencies like the Korean Energy Agency to help develop and invest in energy projects throughout Asia.
In December 2018 it agreed to invest THB5bn ($152m) in B Grimm Power's five and seven-year green bonds, the first certified climate bonds issued to a Thai company.
Energy Absolute
Energy Absolute is a biodiesel and power business which in 2018 recorded revenue of THB12.98bn ($412m) and a profit of nearly THB5bn ($164m). Its Hanuman windfarm is formed of 103 2.5MW turbines provided by Siemens Gamesa Renewable Energy.