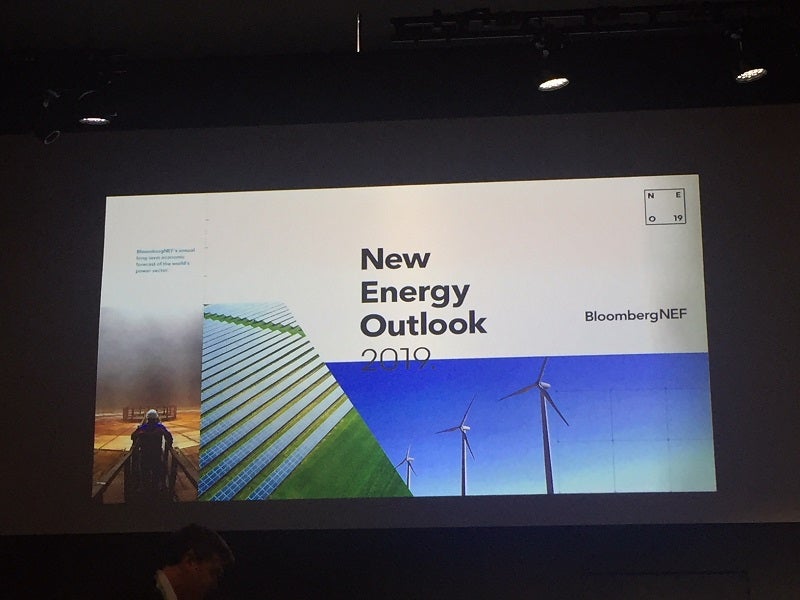 Bloomberg New Energy Finance (BNEF) held its annual New Energy Outlook (NEO ) presentation on 26 June 2019.
The NEO report is BNEF's annual economic forecast for the world's power mix to 2050, and was published on 18 June 2019. It was developed over nine months through a collaboration of more than 65 market and technical experts from BNEF's 11 offices around the world.
The presentation opened with a speech by Bloomberg head of EMEA sales John Schwartz, who talked about energy decentralisation and storage efforts in the US.
In his speech, Schwartz described the developments in battery technology in the US transport industry, with Bloomberg's Electric Vehicle Outlook (Evo ) forecasting greater use of battery powered vehicles as a result of cost declines.
BNEF head of energy economics Elena Giannakopoulou then outlined the findings of the BNEF NEO.
Giannakopoulou detailed the BNEF NEO's predictions for the UK's energy future by 2050, showing an expected increase in onshore and offshore wind as well as a significant decrease in coal and gas. She said: "Coal is out of the leagues, while gas will see its shares shrinking over time."
Despite predicting a global decrease in coal usage, the BNEF NEO shows coal will continue to grow in Asia before eventually peaking in 2026.
Wind and solar energy were described as two significant renewable technologies, with the BNEF NEO predicting that almost 50% of global energy will come from wind and solar power. Renewables as a whole are expected to contribute 62% of the world's energy demands by 2050, with 31% coming from fossil fuels and oil being phased out around 2030.
@ElenaGiannakop outlines the UK's energy future by 2050. Wind power will dominate whilst gas and coal declines. #BNEFNEO #BNEF pic.twitter.com/6Rcand2fwE

— Future Power Tech (@Power_OnlineMag) June 26, 2019
Battery power was also highlighted as a potentially disruptive force in the energy sector, with battery systems already beginning to outcompete energy sources such as coal in a number of countries. Giannakopoulou predicted that solar, wind and battery power will become cheaper over the next few years, putting the energy sector on "a good trajectory" to achieve global decarbonisation targets.
Batteries are beginning to outcompete energy sources like coal in a number of countries, according to @ElenaGiannakop #BNEFNEO #BNEF @BloombergNEF pic.twitter.com/c7ELHS24D0

— Future Power Tech (@Power_OnlineMag) June 26, 2019
Giannakopoulou also described a changing scale of generation, predicting that onshore and offshore wind will see greater use at higher voltages and use of nuclear power will gradually decline towards 2050. She added: "The system is changing, it's becoming more diverse and more decentralised."
This decentralisation has resulted in greater consumer investment in small-scale technologies, with Giannakopoulou noting that "consumers are becoming a very important part of the system." Discussing the market on small-scale batteries, she added: "Watch this space, we're keeping a very close eye on it as it keeps evolving."
Renewable energy sources are predicted to expand by more than 150% in the BNEF NEO, but Giannakopoulou stated that this progression was still "nowhere close" to achieving the 2°C decarbonisation target.
To achieve this target by 2050, Giannakopoulou suggested a "second wave of technologies" would be needed, combining existing "mature" technologies with new developments in this proposed second phase of renewable energy. She recommended investments of $13.3tn in power-generating assets, with 83% of this investment to go into zero-carbon technology and $9.5tn into wind and solar energy, to maintain the "decarbonisation trajectory".
A "second wave of technologies" is needed to reach decarbonisation targets –@ElenaGiannakop #BNEFNEO #BNEF @BloombergNEF pic.twitter.com/LICv4d10pT

— Future Power Tech (@Power_OnlineMag) June 26, 2019