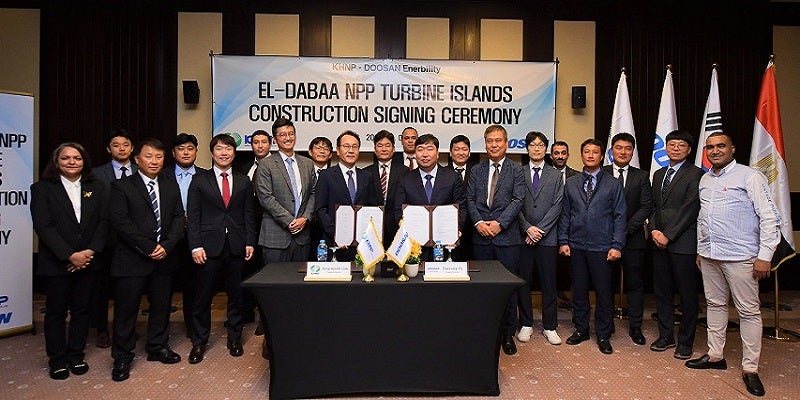 Doosan Enerbility has secured a KRW1.6tn ($1.2bn) contract from Korea Hydro and Nuclear Power (KHNP) to build a turbine island at the El Dabaa Nuclear Power Plant (NPP) in Egypt.
This marks Doosan Enerbility 's first contract win to build a nuclear power facility in an overseas location.
Till now, the company has been involved in the supply of equipment such as reactors and steam generators to nuclear power plants.
Doosan Enerbility Plant EPC Business Group CEO Inwon Park said: "As this is our first nuclear power plant construction contract won overseas, it is significant for Doosan Enerbility in that we will now be able to boast of a nuclear new build track record in not only Korea, but in the global market as well.
"We will do our utmost to successfully complete this project, so that we may contribute to the government and KHNP's efforts to win more global nuclear projects in the future."
Under the contract, Doosan Enerbility will be responsible for the construction of 82 buildings and structures, which includes turbine building, water treatment, and air conditioning systems by 2029.
Preparations will also be made for the installation of the turbine and generator.
In 2017, Rosatom subsidiary ASE JSC secured the El Dabaa Nuclear Power Plant project from the Egyptian Atomic Energy Agency (NPPA).
The project will see the construction of four 1.2GW reactors at a site located 300km to the northwest of Egypt's capital city.
In August this year, ASE JSC awarded the turbine island construction contract to KHNP for the nuclear power facility.
Construction works on the first tower building are slated to begin in August next year.
To meet the Egyptian government's request for localisation, partnerships are also being pursued with local companies for construction, equipment, and materials to support the nuclear power industry in Egypt as well as in Korea.
In another development, Engie along with its consortium partners signed a memorandum of understanding with the Egyptian Electricity Transmission Company and New & Renewable Energy Authority to build a 3GW wind farm in Egypt.
Engie 's consortium partners include Orascom Construction and Toyota Tsusho Corporation.
The wind farms are expected to support Egypt's decarbonisation efforts.