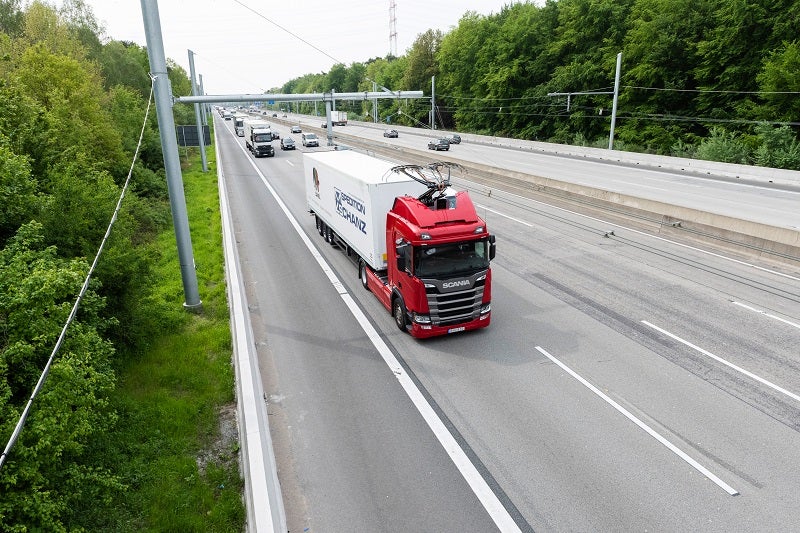 Germany has introduced the first electric highway on its motorway system to recharge hybrid trucks as they drive. The ehighway is 6 miles long and is on the A5 motorway south of Frankfurt in the state of Hesse.
The ehighway was built by German engineering company Siemens, with assistance by groups from the Technical University of Darmstadt and Entega. Similar to overhead power lines used for trains and trams, hybrid trucks will connect to overhead cables and charge trucks whilst they travel at speeds of up to 56mph.
The scheme was funded by the German Federal Ministry for the Environment, who provided €14.6m for the construction of the motorway, with a further €15.3m available for trials in Hesse until 2022. So far only one truck will use the highway but another four are expected to be added by 2020.
Siemens estimate that if 30% of Germany's motorways were electrified, the country would reduce its CO2 emissions by seven million tonnes and fuel savings could be as much as €16,000 per 100,000km.
Parliamentary State Secretary at the Federal Ministry for the Environment, Nature Conservation and Nuclear Safety Rita Schwarzelühr-Sutter said: "Electrified overhead line trucks are a particularly efficient solution on the way to climate-neutral freight transport. We've tested the system for many years on private test routes.
"We're now inaugurating practical tests on the A5 autobahn between Frankfurt and Darmstadt, and two 2 further test stretches will follow in the states of Schleswig-Holstein and Baden-Württemberg."
Hesse state secretary at the ministry of transport Jens Deutschendorf added: "With this project, Hesse is underscoring its leading role in the transition to sustainable, climate-friendly mobility and signaling its willingness to try out new technologies for transportation."
Siemens is also installing ehighways in the US and Sweden.