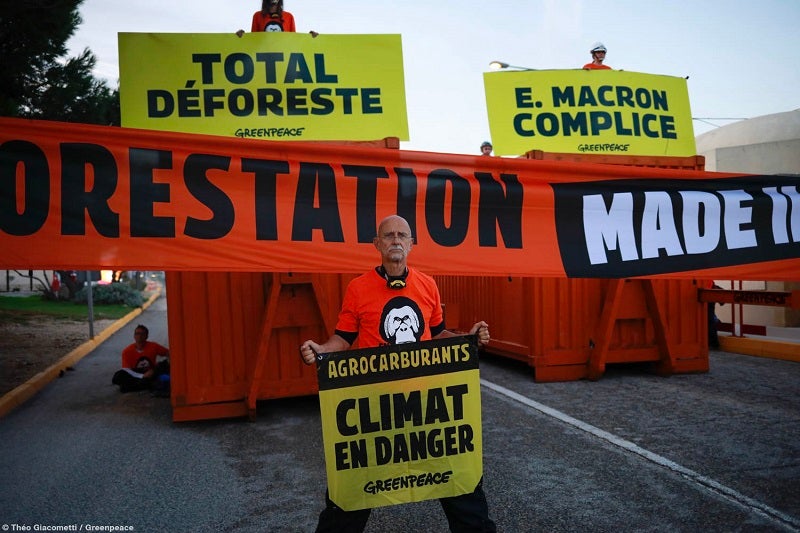 Greenpeace activists have blocked the entrance to French oil and gas multinational Total's La Mède biorefinery in south-eastern France.
Around 20 activists entered the La Mède site at 6:05am on 29 October 2019, using two containers holding two Greenpeace activists each to block vehicle access to the plant, and deploying a banner reading "Deforestation made in France."
C'est clair ou pas, @PPouyanne ?

Nous empêcherons la déforestation #MedeInFrance provoquée par @Total. pic.twitter.com/AF6YxEj1nz

— Clément Sénéchal (@ClemSenechal) October 29, 2019
This protest action follows the arrival of the Ocean Breeze cargo ship, filled with 30,000-45,000 tons of palm oil from Indonesia, at the Lavera port near the La Mède biorefinery on 27 October 2019.
This follows similar protest action on 20 May 2019, when Greenpeace activists blocked the entrances to BP's London headquarters to protest the oil major's oil and gas exploration operations.
Greenpeace France forest and climate campaigner Clément Sénéchal said: "The double speech of the French Government and the head of state between ambitions displayed on the fight against climate change and support for climaticide industries makes perfect sense here at La Mède.
"The palm oil used in this plant comes from Indonesia, where it contributes to the destruction of the rainforest. Tens of thousands of tons of palm oil are imported by Total to produce agrofuels: it is high time that the government put an end to this industry that destroys the environment instead of preserving it."
Total started production at the La Mède biorefinery in July 2019, having invested €300m to convert the site from an oil and gas refinery from 2015. The La Mède complex includes the biorefinery, with a capacity of 500,000 tonnes of biofuel per year, and an 8-megawatt solar farm that can supply power for 13,000 people.
When Total launched the La Mède biorefinery, it pledged that it would process no more than 300,000 tonnes of palm oil per year, less than 50% of the total volume of raw materials needed, and production would be 100% sustainable according to EU standards.
However, Greenpeace has criticised the government for allowing Total to import up to 650,000 tonnes of palm oil to produce biofuels. According to Greenpeace, these imports could increase French imports of palm oil by more than 60%.
Sénéchal said: "Our parliamentarians must show courage and stand up to Total's pressure. Agrofuels are a false solution to get out of our dependence on oil. Their impact on climate and biodiversity is catastrophic.
"But they represent a juicy financial windfall for companies eager for short-term profits like Total, who care more about their dividends than the climate crisis."
The French Government is expected to implement a National Strategy against Imported Deforestation (SDNI) in January 2020, after a court upheld the initiative on 11 October 2019, rejecting an appeal from Total against the ban on palm oil and the elimination of associated tax benefits. Greenpeace welcomed this decision, calling for an additional ban on soya beans as biofuel and encouraging the government to implement these bans before January 2020.