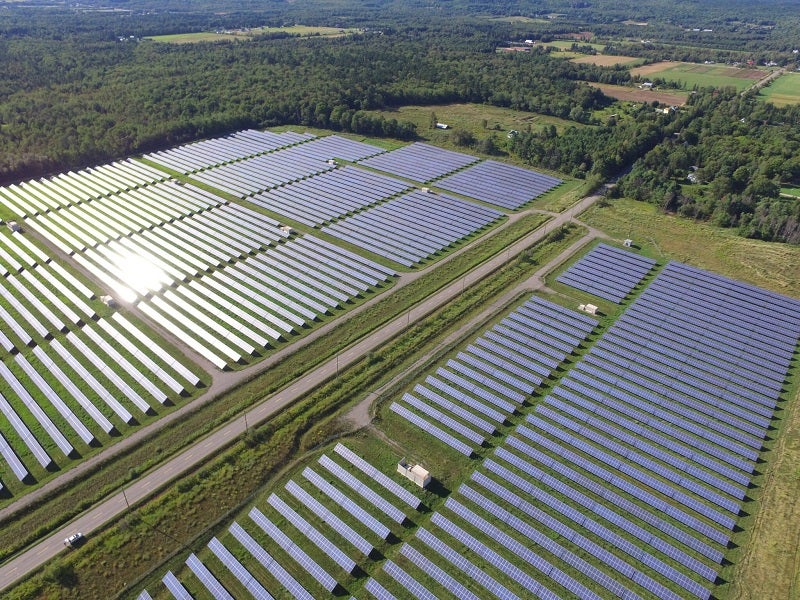 Canadian hydroelectric power company Innergex Renewable Energy has agreed to acquire the Sault Ste Marie solar portfolio in Canada from Fengate Asset Management.
Located in north-western Ontario, the 60MW solar portfolio includes the Sault Ste Marie I, II, and III facilities.
It was sold for a consideration of C$50.2m ($57.5m), along with the assumption of C$169.5m ($126.8m) of existing debt.
Commissioned in 2010 and 2011, the solar assets have long-term Renewable Energy Standard Offer Program power purchase agreements (PPAs) in place with the Independent Electricity System Operator.
They are expected to generate annual revenues of around C$33.1m this year.
Through this deal, Innergex aims to expand its presence in the Sault Ste Marie region.
Innergex president and CEO Michel Letellier said: "This is our first acquisition in Canada since 2018, and we are excited to add this collection of high-performing, fully contracted solar assets to our portfolio for additional and reliable Canadian dollar cash flows.
"The portfolio adds to our geographical diversification and improves our asset mix by adding 60MW of solar capacity to our existing fleet."
The deal is expected to close in the first quarter of this year if it meets customary closing conditions, including certain regulatory approvals in Canada and key third-party consents.
National Bank Financial served as the financial advisor to Innergex for the deal.
Based in Longueuil, Innergex develops, acquires, owns and operates hydroelectric facilities, wind farms, solar farms and energy storage facilities.
The company currently has 159MWh of total energy storage capacity across 40 hydroelectric facilities, 35 wind facilities, eight solar assets and one battery energy storage system.
In June last year, Innergex acquired Aela Generación and Aela Energía in Chile for C$861.2m.
The acquisition included three operating wind farms and nearly doubled Innergex's total installed capacity in the country.