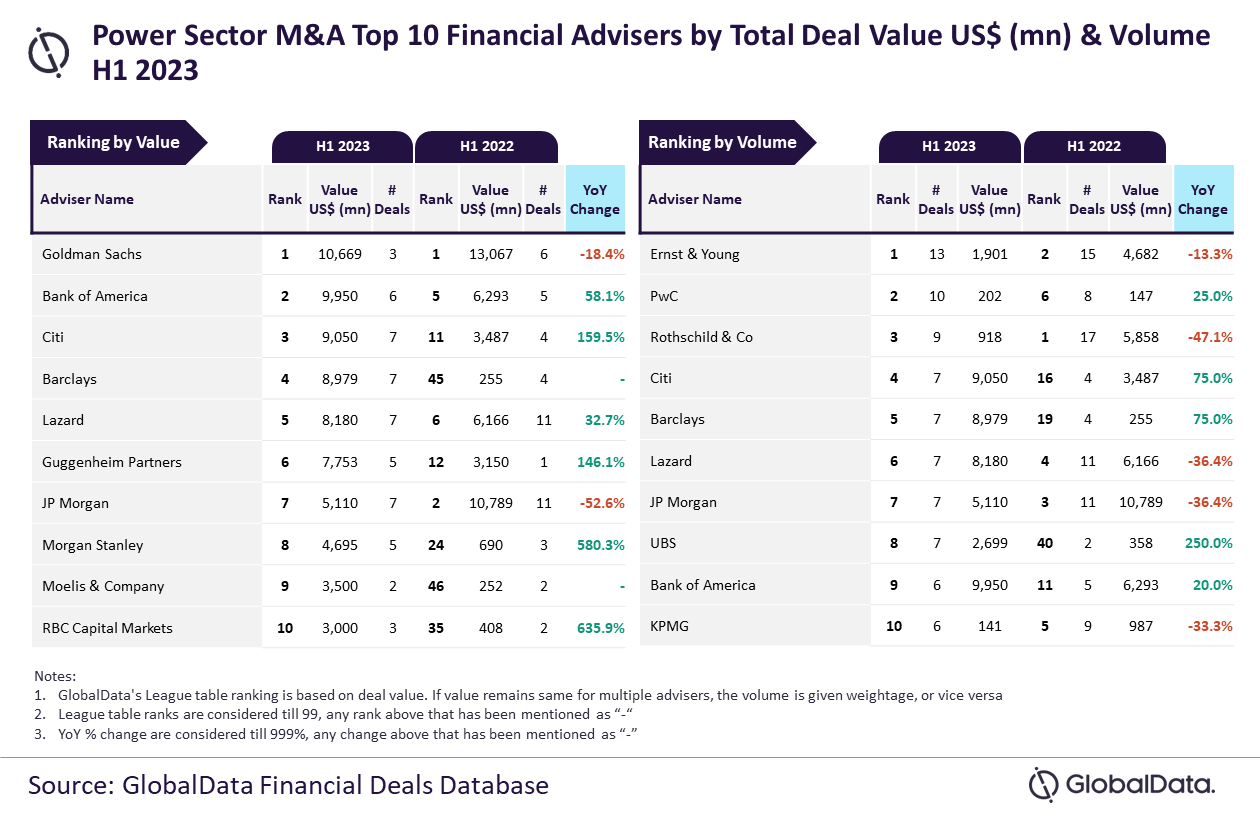 Analytics company GlobalData, the parent company of Power Technology, has found that Goldman Sachs and Ernst & Young were the top mergers and acquisitions (M&A) financial advisers in the power sector during the first half of 2023.
Examining M&A data, GlobalData revealed that Goldman Sachs had the highest cumulative value of deals in H1 2023, advising on $10.6bn of deals in the first half of the year. While this is a decrease from H1 2022, when it advised on $13bn, it was still enough to maintain the top spot it held at that time.
Ernst & Young, meanwhile, advised on 13 deals, more than any other firm. Although it rose to the top spot from the second place held in H1 2022, it advised on fewer M&A than it did in that period.
GlobalData lead analyst Aurojyoti Bose commented: "Goldman Sachs was the only adviser that managed to surpass the $10bn mark in total deal value during H1 2023. Meanwhile, Ernst & Young was among the only two advisers with double-digit deal volume in H1 2023."
Closely following Goldman Sachs in the value table, Bank of America held second place with $9.9bn of deals advised on. This is almost a 60% increase in deal value from H1 2022, when it held the fifth spot. Citi followed behind with $9bn, a 159.5% increase from the $3.4bn it advised on in H1 2022, when it sat outside the top ten. The largest single value jump in the top ten came from Barclays, which increased from $255m in H1 2022 to $8.9bn in H1 2023, rising 41 places in the table to fourth.
In the value table, second-placed PwC was the only firm besides Ernst & Young to advise on a double-digit deal tally in H1 2023, with Rothschild & Co following closely in third with nine deals, although the cumulative value of those deals was less than $1bn. In fourth was Citi, which also sat third in the value table, with seven M&A advised on. Barclays, which occupied fourth spot in the value table, came fifth on the volume chart, with seven deals, ranking below Citi but above three others on seven based on its cumulative value.
Despite topping the chart for Value, Goldman Sachs fell outside the top ten for deal volume, with its $10.6bn tally only coming from three deals. Similarly, Ernst & Young advised on more deals than any other firm; however, the cumulative value of those deals amounted to 41.9bn, not enough to enter the top ten on the value chart.
GlobalData's league tables are based on the real-time tracking of thousands of company websites, advisory firm websites and other reliable sources available on the secondary domain. A dedicated team of analysts monitors all these sources to gather in-depth details for each deal, including adviser names.
To ensure further robustness of the data, the company also seeks submissions of deals from leading advisers.