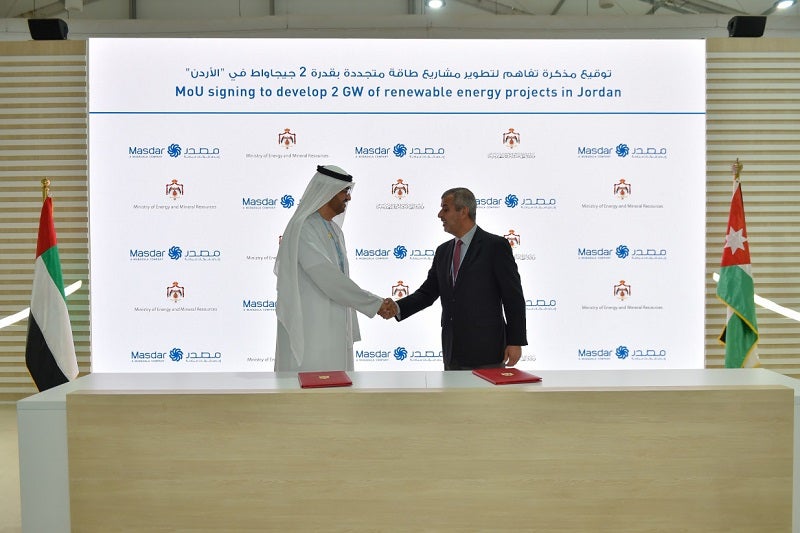 UAE-based energy firm Masdar has signed a memorandum of understanding (MOU ) with Jordan's Ministry of Energy and Mineral Resources for 2GW of renewable energy capacity.
Under the MoU, the two parties will focus on investment and development opportunities in Jordan's clean energy segment.
The agreement also includes the exchange of knowledge and expertise in green energy and infrastructure development, including electricity transformation, distribution and exportation.
Jordan Energy and Mineral Resources Minister Dr Saleh Al-Kharabsheh said: "Jordan is already a pioneer in renewable energy development in the region, where it currently produces around 29% of its electricity from renewable sources, and aims to increase this share to 50% by 2030.
"The country is also looking to become a regional hub for green energy production benefitting from the abundance of renewable energy energies, in addition to its central location in the Middle East and Africa.
"In Jordan, we believe in collaborative work, whether on the regional or national level, and the partnership with our brothers in the UAE and Masdar under this agreement will help our country to reach our sustainability ambitions."
Masdar CEO Mohamed Jameel Al Ramahi said: "Masdar has been a proud partner of Jordan for nearly ten years, helping to deliver pioneering renewable energy projects that contribute to the country's sustainable development.
"With this latest MoU, we hope to increase the impact and depth of our collaboration with Jordan in the area of renewable energy."
Based in Abu Dhabi, Masdar specialises in renewable energy projects, low-carbon urban development and clean-tech innovations.
Earlier this month, the company signed an MoU with Egypt's Minister of Electricity and Renewable Energy to develop a 10GW onshore wind project alongside Infinity Power and Hassan Allam Utilities.
The project will have the capacity to generate 47,790GWh of clean energy a year while displacing 23.8 million tonnes of carbon emissions.