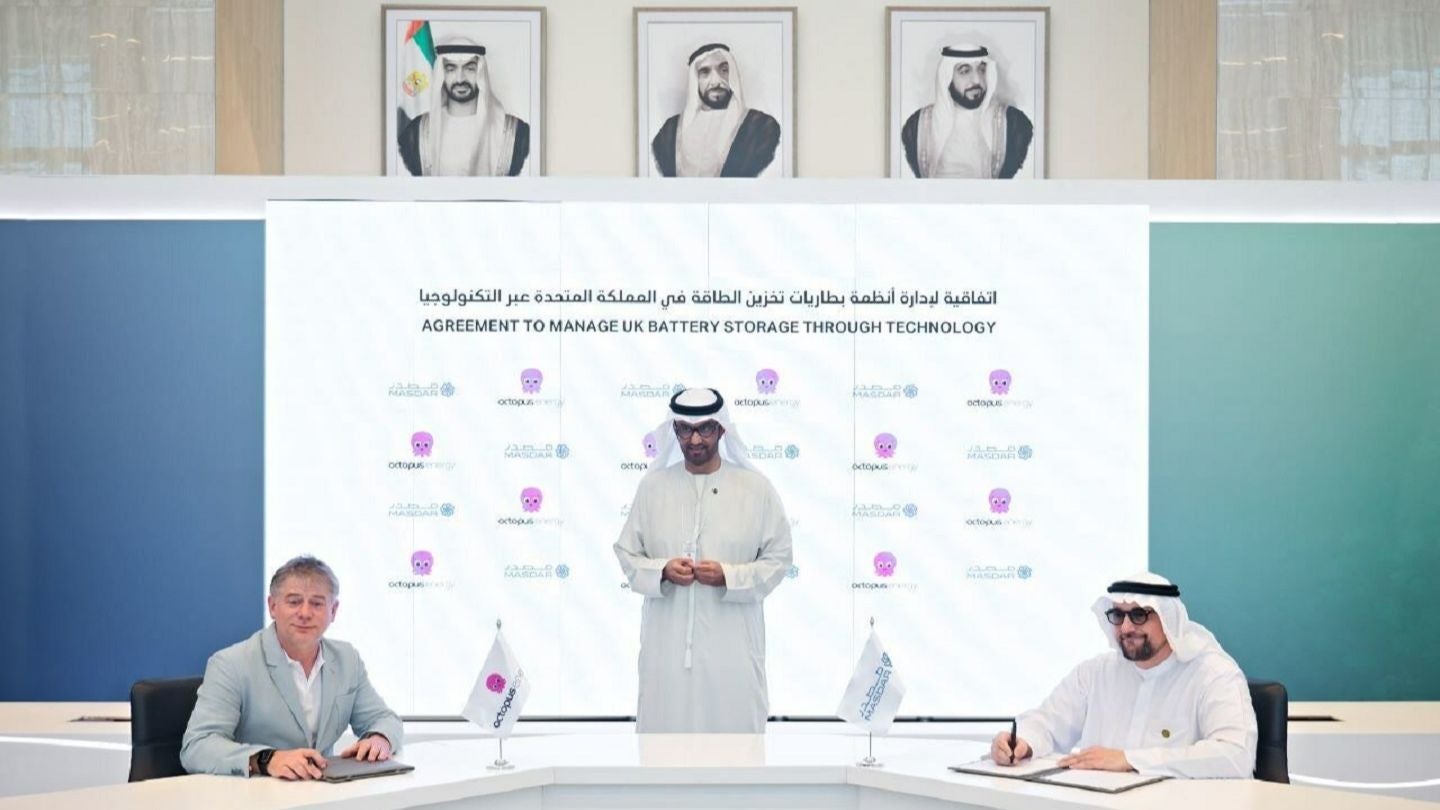 UAE-based energy company Masdar has reached a framework agreement with Octopus Energy, a British renewable energy company, to bolster its battery energy storage portfolio across the UK.
Masdar will utilise Octopus Energy's Kraken platform to manage the storage portfolio.
Masdar is looking to optimise and expand its energy trading capabilities, which can help to expedite the roll-out of renewable energy projects across the UK.
It will also contribute to the country's net-zero goals.
This follows Masdar's commitment to invest £1bn ($1.26bn) in battery storage in the UK after acquiring London-based Arlington Energy in October 2022.
Kraken is an energy technology platform based on data and machine learning capabilities. It is built around scalable, cloud-based architecture that runs continuous deployments.
It was tailored for the energy sector as it can automate much of the supply chain and enable higher levels of customer self-service.
Kraken currently manages 5GW across 38,000 green energy assets in ten countries.
Octopus Energy aims to deploy Kraken on 100,000 devices with 6GW of capacity by the end of 2023.
Kraken will enable Masdar to control the performance of its batteries in real time and optimise them for maximum returns, storing and discharging electricity in the greenest possible way.
Masdar CEO Mohamed Jameel Al Ramahi stated: "Masdar and Octopus Energy share a common commitment to pioneering innovative clean energy solutions that disrupt and transform the energy market, and as we expand our presence in the UK energy sector through our £1bn investment in battery storage, Kraken will provide us with the flexibility we need to scale our business rapidly.
"Kraken's experience and expertise in battery storage asset management will help us to maximise the value of our investments and support the UK's ambitious energy transition goals."
The two companies also agreed to jointly participate and explore collaborative opportunities in renewable energy and generation.
Octopus Energy Group founder and CEO Greg Jackson stated: "Masdar has established itself as one of the leading investors in renewable technologies around the world. As they step into batteries in a big way – the acquisition of Arlington and this £1bn announcement – we are delighted to partner with them.
"Working together with their infrastructure expertise and Kraken's world-leading technology, we can make a real difference – driving cleaner, cheaper and more secure energy at scale."