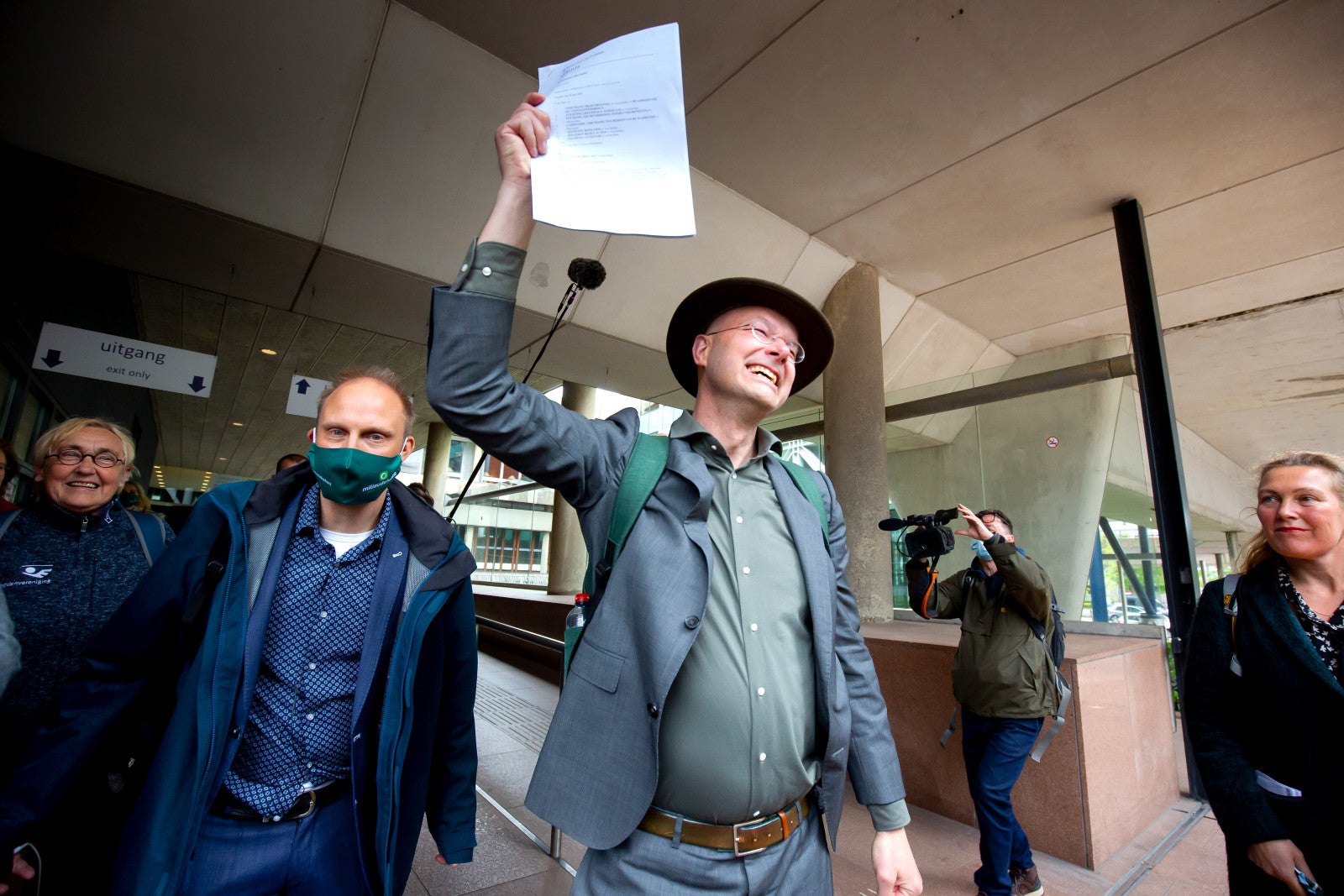 Shell-into-faster-decarbonisation-has-written-warnings-to-its-next-targets">The climate action group that successfully sued Royal Dutch Shell into faster decarbonisation has written warnings to its next targets.
Milieudefensie, the Dutch wing of environmental action groups Friends of the Earth, sent letters to 29 multinational companies on Thursday. The two-page letter outlines how the group interprets its victory against Shell in May last year, and how it believes the ruling affects the companies receiving the letter.
The companies in question include oil giants ExxonMobil and BP, consumer goods company Unilever, and German energy company RWE, plus several banks and investors such as ABN Amro and ING. The companies receiving the letter all have incorporations in the Netherlands and, according to the letter, "control and influence a substantial amount of CO₂ emissions".
The letter reads: "In our view, the ruling in the case against Royal Dutch Shell implies that every large emitter has a de minimis obligation [a duty too basic to invite further litigation] to reduce its emissions in line with the global imperative resulting from the Paris Climate Agreement.
"Implementation of this plan should, by 2030, reduce your business' CO2 emissions (scope 1, 2 and 3) by at least 45% compared to 2019. We expect your plan to be climate-just. The deadline for this climate plan is 15 April 2022."
In June, the think tank New Climate Institute will assess any published plans and rank their effectiveness. Milieudefensie will then publish the results. The group says it has "neither the wish nor the ambition to engage in legal battles with all of the Netherlands' large polluters". However, spokesperson Peer de Rijk said that not publishing carbon reduction plans may result in legal action.
At the same time, Milieudefensie will continue its suit against Shell. This case remains under appeal, but its ruling remains in effect unless overturned.
In May 2021, the Hague District Court ruled that excessive emissions by Royal Dutch Shell violate the human right to life. As a result, Judge Larisa Alwin ruled that Shell should cut emissions of greenhouse gases by 45% between 2019 and 2030. This case became the centrepiece of climate litigation in 2021, inspiring several similar suits contrasting business activity and human rights.
Also this week, activist investors that defeated ExxonMobil's board at its AGM have said that they will now turn their eyes on the company's employment practices.
Shareholder group Engine Number One defeated ExxonMobil's voting advice at its last AGM, installing two of its own choices as board members. Michael O'Leary, investment overseer at the group, has said that he expects "issues like workforces, and racial diversity" to become a key value driver in future.
Power Technology recently predicted a spate of similar climate litigation announcements throughout 2022. Read our predictions here.