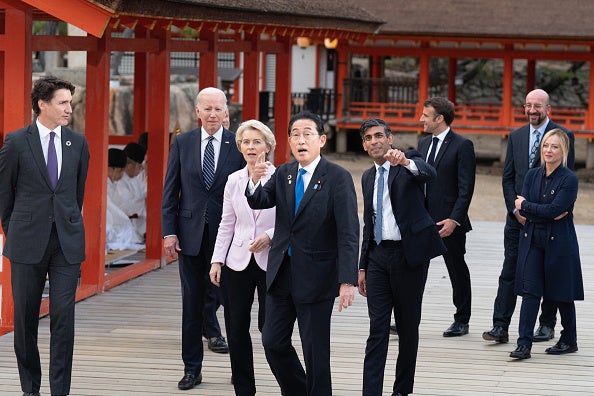 The UK has announced a new wave of sanctions against Russia, as the G7 Summit begins in Japan this weekend.
The sanctions will target companies connected to the theft of Ukrainian grain and the shipment of Russian energy, defying current sanctions. Further sanctions from G7 nations are also expected to be unveiled this weekend.
According to the UK Government, the sanctions will affect 86 individuals and entities "connected to Russia's capacity to fund and wage the war [in Ukraine]".
The sanctions will also affect companies connected to Russian nuclear energy company Rosatom, which supplies 20% of Russia's energy. Rosatom also recieved sanctions from the US Government in February. The French state has also been under scrutiny for its connection with Rosatom due to a joint declaration of research cooperation signed in 2021.
"Today's new sanctions increase the economic pressure on Putin – making it harder for him to wage his illegal war and inflict untold suffering on innocent Ukrainians," said UK Foreign Secretary James Cleverly. "We will continue to increase this pressure and crack down on all emerging forms of circumvention until Ukraine prevails and peace is secured."
Sanctioning Russia's energy industry
The UK has already banned the import of Russian coal, oil and liquified natural gas.
According to a statement from the government, sanctions will be placed on "Matex, which produces composite materials based on carbon fibre for Rosatom that could be used for military purposes, and Triniti, whose research and development into laser physics is directly funded by the Russian Federation's State Defence Order".
Oleg Romanenko, a lead official at the Zaporizhzhia Nuclear Power Plant, which the UK Government suspects is colluding with the Russian Government, will also be impacted by sanctions. Sanctions will also impact 13 members of the Gazprom-Neft board of directors and five members of the Transneft board of directors.
Other sectors that will be sanctioned by the UK include metals production, transport services, defence companies and banks.
Other G7 leaders and the EU are expected to issue fresh sanctions on Russian gas pipeline imports. Lawmakers in the EU also seek to close existing loopholes in Russian oil shipping.