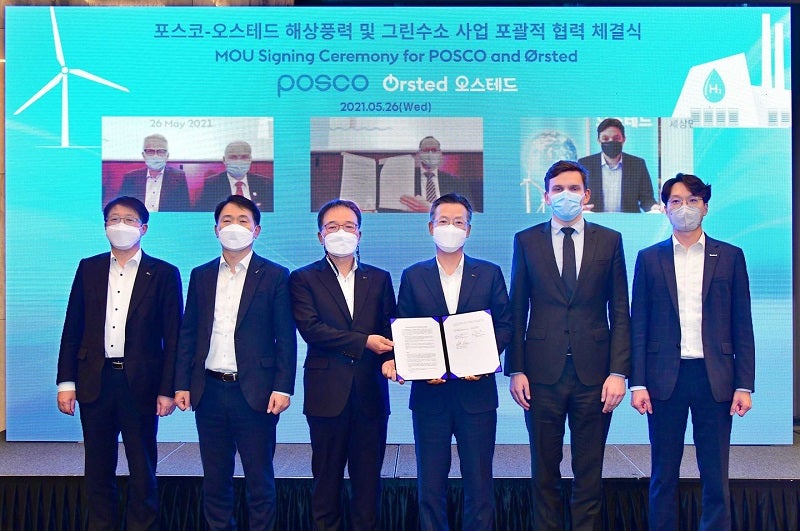 Danish energy company Ørsted and South Korean steel manufacturer POSCO have signed a memorandum of understanding (MOU) to expand their collaboration in offshore wind and renewable hydrogen.
Under the MoU, POSCO and its affiliates will support the development of Ørsted's 1.6GW offshore wind projects off the coast of Incheon City in South Korea.
Last November, Ørsted announced plans to develop offshore wind projects off the coast of Incheon City.
The projects in Incheon will have the capacity to power 1.4 million South Korean homes while offsetting almost four million metric tonnes of carbon emissions a year.
South Korea has set a target to install 12GW of offshore wind capacity by 2030.
Last September, President Moon Jae-in announced a Green New Deal, which aims for net-zero emissions by 2050.
With this MoU, Ørsted said that it had taken 'another significant step' towards the development of renewable energy in Korea and supporting the country's shift to clean energy.
Ørsted Asia-Pacific president Matthias Bausenwein said: "This MoU is a major step for Ørsted to deepen our collaboration with POSCO, who share our mindset of taking responsibility for reducing CO₂ emissions.
"We look forward to bringing in our experience and insights to support Korea in achieving its energy transition and decarbonisation goals."
POSCO has supplied more than 100,000t of steel for Ørsted's Hornsea One offshore wind project, located off the English coast in the North Sea, as well as three of its other offshore wind farms.
As part of the MoU, the two companies have also agreed to conduct feasibility studies for potential collaborations on renewable hydrogen.
POSCO Group senior executive vice-president Jung-son Chon said: "POSCO has placed its hydrogen business as one of our growth engines for the group, and is working to discover renewable hydrogen business opportunities.
"We hope to see our renewable hydrogen business pick up speed through this business collaboration with Ørsted.
"By combining the operational know-how of Ørsted, a global company in the field of offshore wind and renewable hydrogen, with the business capabilities of POSCO Group, which include construction and energy, both companies will be able to create synergies for a win-win collaboration."