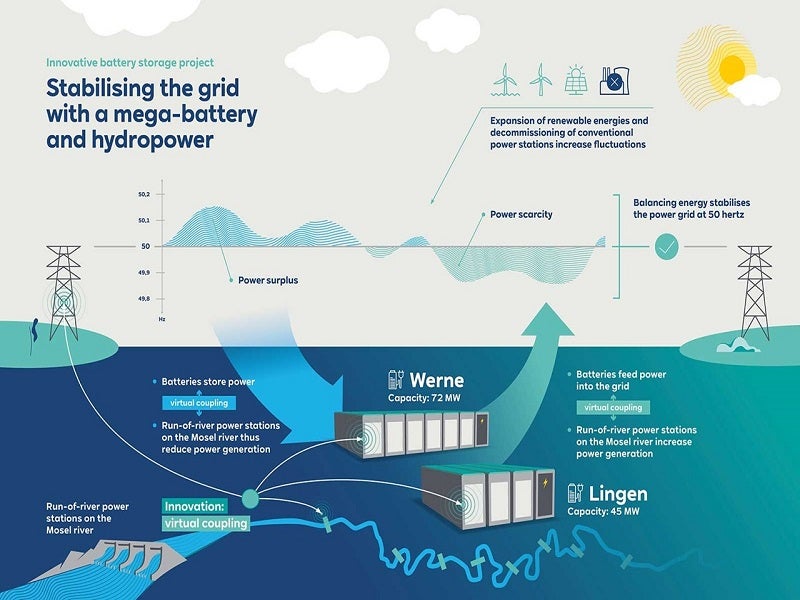 German energy utility company RWE has installed Germany's first mega battery system, with 117MW/128MWh of total capacity, at its power plant sites.
The company has installed a total of 420 blocks of lithium-ion batteries at its sites in Lingen, Lower Saxony, and Werne, North Rhine-Westphalia.
The battery at the Lingen site has 49MWh of capacity, while RWE installed a 79MWh battery at its Werne facility.
Built with an investment of around €50m ($53.7m), the megabattery project is claimed to deliver the specified power for around an hour.
RWE Generation CEO Roger Miesen said: "With the increasing expansion of renewable energies, Germany needs innovative storage solutions on an industrial scale that can step in when the wind and sun are not supplying.
"In terms of size and technology, we are setting benchmarks in this country with our mega-battery.
"The completed battery storage facilities and our hydroelectric power plants on the Moselle will work hand in hand in the future to help stabilise the electricity grid."
The battery system is linked virtually with RWE's run-of-river power plants along the Moselle River and, by regulating the flow rate at these plants, the company will provide additional power as balancing energy.
RWE noted that its battery storage system has started feeding electricity into the grid and is currently going through a trial run, with commercial operations planned to begin in the coming days.
It added that since the battery systems are located at RWE power plant sites, they can utilise existing grid infrastructure to feed electricity into and out of the grid.
Earlier this month, RWE partnered with Norwegian petrol company Equinor to develop offshore wind farms capable of producing green hydrogen.
The offshore wind projects are intended to establish value chains for low-carbon hydrogen.