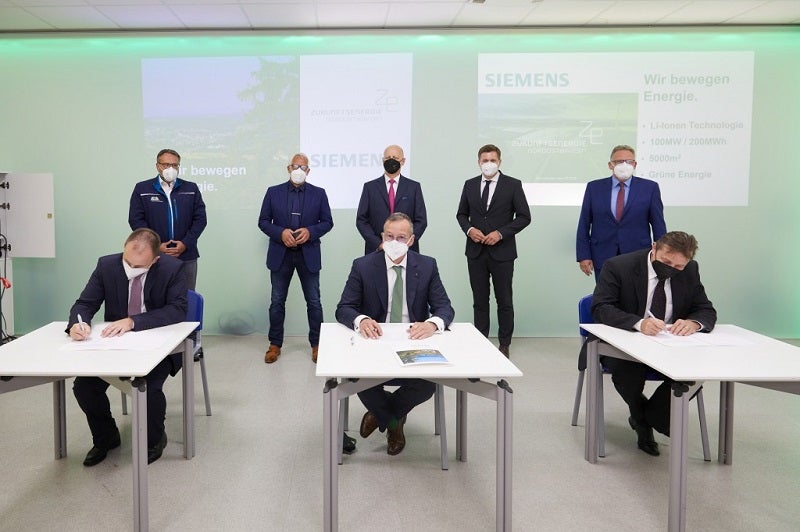 Siemens Smart Infrastructure has signed a letter of intent with Zukunftsenergie Nordostbayern (ZENOB) for the turnkey construction of a 100MW battery storage facility in Wunsiedel, Germany.
With a storage capacity of 200MWh, the battery facility will be one of Europe's most powerful facilities upon completion.
SWW Wunsiedel (a ZENOB partner) managing director Marco Krasser said: "Electricity storage facilities are an important building block for shaping the future of energy.
"They can help stabilise the grid and make better use of energy generated from renewable sources. They draw surplus power from the grid and feed it back when electricity demand is higher.
"Smart storage technology will increase the local and national supply of green power. That is why we are gradually expanding the capacity."
The battery will be powered with excess renewable energy and designed to cope with the grid's additional power demand.
Covering a 5,000m² area, the lithium-ion battery storage system will have the capacity to power 20,000 average households a year.
ZENOB intends to store locally generated electricity from renewable energy while reducing carbon emission levels.
The battery storage system will be supplied by Fluence, a joint venture between Siemens and AES.
Siemens has agreed to offer project management services for this project, including the technical implementation of the concept.
It has also agreed to build a medium-voltage switchgear system and connection to the high-voltage grid.
The letter of intent signed by Siemens and ZENOB also includes the development of a financing concept.
Siemens Smart Infrastructure Germany Technology Performance Services head Bernd Koch said: "This also benefits the upstream grid operator because it gives them more flexibility to compensate for voltage fluctuations, which are increasingly common because of the expansion of renewable energy generation."
Last December, a consortium comprising Siemens Smart Infrastructure and Hassan Allam Construction secured a contract from Egyptian Electricity Transmission Company to build the new National Energy Control Center.