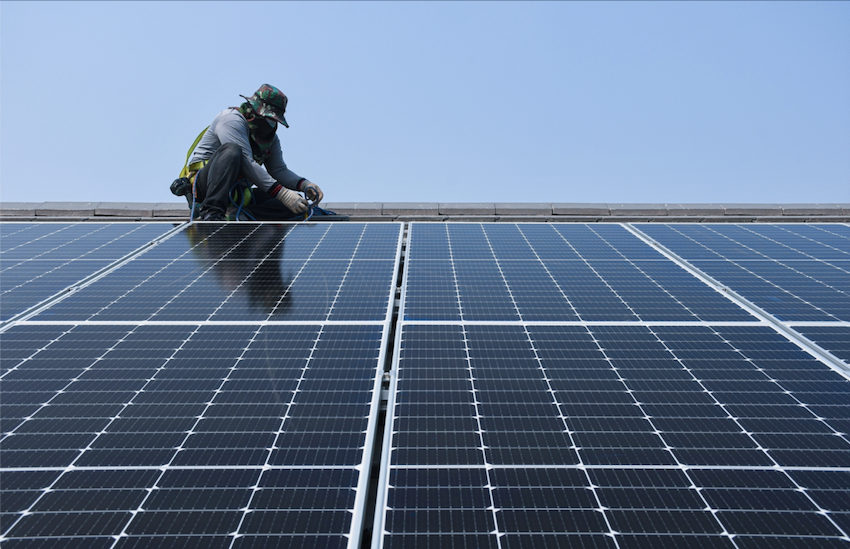 The number of households in the UK installing rooftop solar panels reached a seven-year high in the first quarter of 2023.
More than 50,700 installed solar arrays between January and March, more than double the number in the same period last year. These installations account for 265MW of power, half of what is typically produced by a coal-fired unit.
Trade body Solar Energy UK's spokesperson Gareth Simkins told the Guardian: "In the last year, solar installations have been driven by the energy crisis. The invasion of Ukraine has driven energy bills higher and there has been a greater awareness that solar panels can help to save on costs."
While the amount of electricity solar panels can generate depends on their type and size, solar arrays could cut the cost of bills by more than £300 ($374.5) a year for a typical household, reports the BBC.
The number of rooftop solar units recorded by installers registered to the UK's micro-generation certificate scheme was also more than double the number of installations reported between January-March 2019, before the UK government's solar subsidy scheme ended.
The UK generates approximately 4.4% of its electricity from solar power, transmission systems operator National Grid estimates. 
Rising energy prices give greater incentive than UK government's promotion of solar energy
In 2010, the UK government launched a Feed-in Tariff (FiT) subsidy scheme to promote the uptake of renewable and low-carbon electricity generation alternatives. Solar installations reached a peak in 2015 as the government offered lucrative payments under the FiT scheme. These benefits were cut by 65% in 2016 and phased out entirely by 2019.
After this, the number of installations plummeted. The capacity deployed by small solar power installations fell by 74% compared to when the scheme was launched. In March 2023, shadow climate secretary Ed Miliband said the Labour Party could require solar panels for newly built homes if the opposition wins power in the next election. However, government climate secretary Grant Shapps argued that making them mandatory would drive up the cost of housing and harm innovation in other technologies.