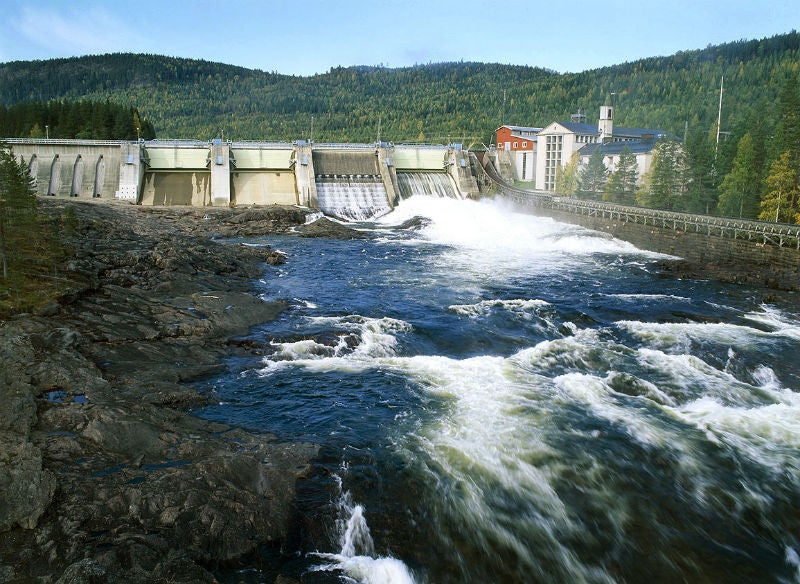 Finnish clean energy solutions firm Fortum has announced it will deploy a 5MW/6.2MWh battery system to assist a Swedish hydropower plant.
The new battery energy storage system will support the Forshuvud hydropower plant by providing frequency regulation services in order to balance the grid.
Fortum head of asset management for hydropower Martin Lindström said: "Batteries are thought to be used mostly to store energy. Now, however, we will try connecting a battery to a hydropower plant with the idea of improving the plant's ability to function as regulating power for the Nordic electricity network."
"The battery's very quick response time improves the speed and preciseness of the Forshuvud hydropower plant's regulation, so we are able to provide even better service to grid companies. We hope that this significant innovation helps us to more quickly achieve Sweden's ambitious targets for renewable energy use and create a cleaner world."
An overwhelming majority of Sweden's grid frequency regulation is provided through hydropower projects, but according to Fortum, batteries could play a more prominent role in this in the future as short-term and quick response balancing has a 'wear and tear' effect on hydropower turbines.
The Forshuvud plant is one of several Fortum-owned Swedish hydropower facilities in the Dalälven River catchment area. It is a 44MW plant, which generates 209.8GWh per year on average. Fortum has an 88% operating interest in the plant.
The company, owned by the Finnish Government, already holds the record for installing the largest battery in the Nordic region, installing a 2MW/1MWh battery storage system at the Järvenpää biomass plant in Finland that was activated in March 2017.
The Forshuvud project is estimated to cost around €3m ($3.42m), with construction to begin in the new year for a mid-2019 start.
Transitioning to a carbon neutral Europe
Fortum joined Norwegian state-owned energy company Statkraft and Swedish state-owned Vattenfall, in a public call for Europe to become carbon neutral by 2050.
In a joint statement, CEOs from all three companies wrote: "We believe that ambitious long-term climate targets can be reached in an affordable manner by using market instruments and sector coupling.
"Hydropower is one of the few CO₂-free technologies that can provide both short- and long-term flexibility in several EU countries and hereby avoid a significant amount of CO₂ emissions. Therefore, hydropower has an increasingly crucial role in facilitating the cost-efficient integration of intermittent low-carbon generation into the system, which should be duly considered."