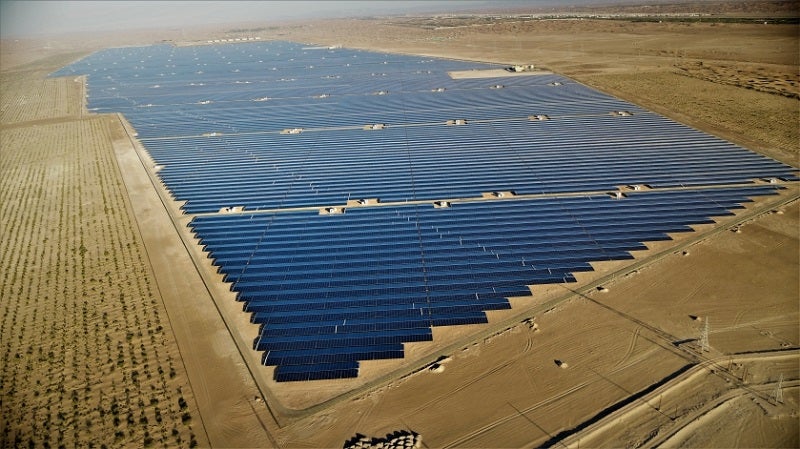 Emirati energy company Sweihan PV Power has issued a $700.8m green project bond to refinance the debt for its namesake 1,177MW photovoltaic (PV) independent power project in Abu Dhabi, United Arab Emirates (UAE).
The company is jointly owned by a consortium comprising Japanese business conglomerate Marubeni, Chinese photovoltaic manufacturer JinkoSolar Holding and Abu Dhabi National Energy Company (TAQA).
Marubeni said that the project bond will be used to refinance an existing senior loan that was taken using project finance facilities, as well as to further optimise the capital structure.
The solar facility began its commercial operations in April 2019.
All the clean energy generated by the solar farm is sold to Emirates Water and Electricity Company (EWEC) under a power purchase agreement (PPA).
With the issuance of the project bond, Sweihan PV Power Company agreed with EWEC to extend the existing PPA term from 25 to 30 years.
The bond is said to be the first green project bond issued in the Middle East and North Africa region. It will be listed on Euronext Dublin and traded among a wide range of investors.
It was issued by the company under the terms of the Green Bond Principles 2021, which were established by the International Capital Market Association.
In a statement, Marubeni said: "Middle Eastern countries, including the UAE, are promoting increases of renewable energy in order to reduce carbon emissions and accelerate energy transition.
"To contribute to Middle Eastern countries' decarbonisation, Marubeni will take a progressive approach to expand its renewable energy business."
In November 2020, a subsidiary of JinkoSolar Holding agreed to sell a 50% stake in Sweihan PV Power to Jinko Power HK.
Following the transaction, Jinko Power HK's parent company Jinko Power Technology acquired a 20% holding in the solar PV project.