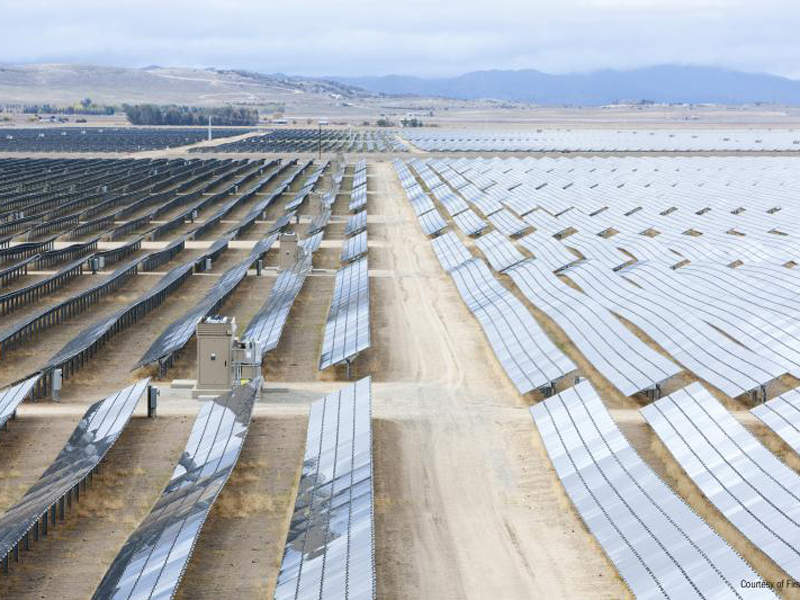 Masdar was in talks with Hero Future Energies for a 20% stake in the company. Credit: First Solar Inc.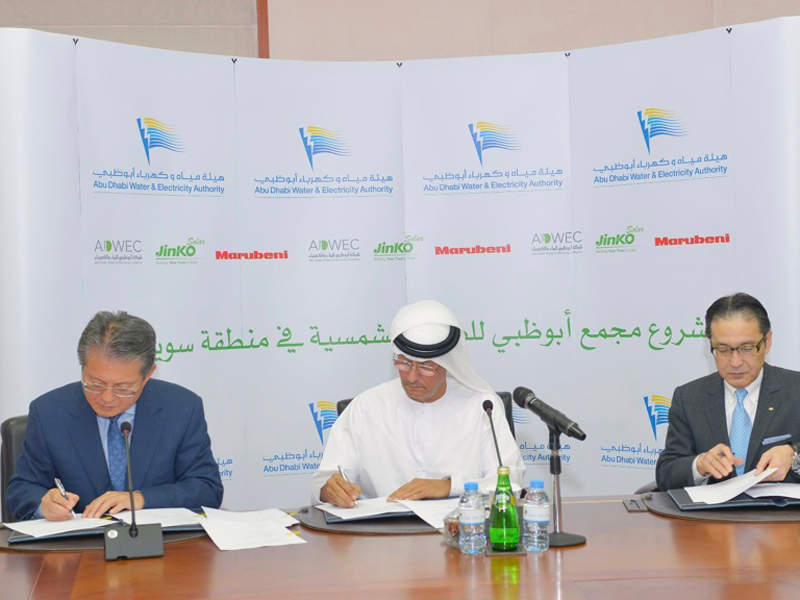 The Sweihan project is being developed by a joint venture of JinkoSolar, Marubeni and Abu Dhabi Electricity and Water Authority. Credit: Middle East Solar Industry Association.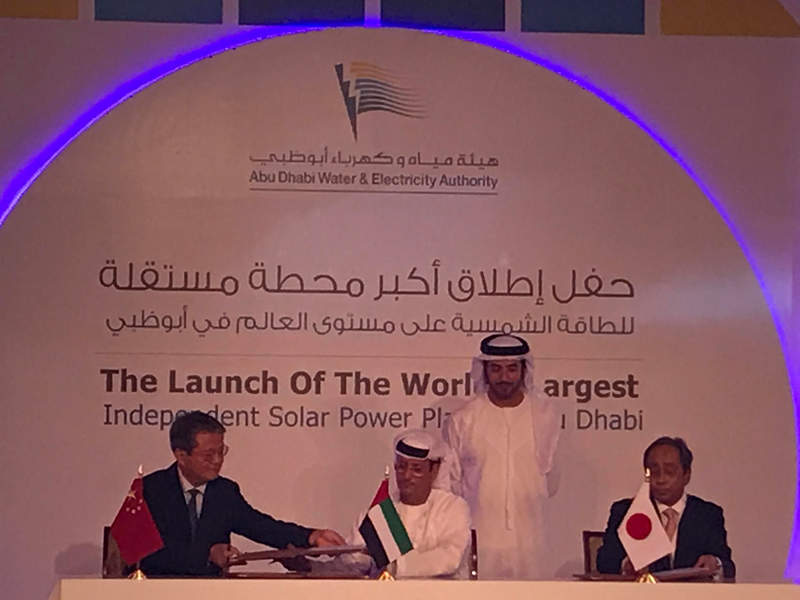 A financing agreement for the project was signed with a group of banks in May 2017. Credit: Middle East Solar Industry Association.
The Sweihan power project is a 1,177MW solar photovoltaic (PV) independent power project (IPP) in Abu Dhabi, UAE. It is amongst the world's biggest solar PV plants.
A consortium of Marubeni and JinkoSolar submitted a bid at a tariff of $2.94 cents per kWh, which is the lowest ever levelised cost of electricity (LCOE) bid for solar power, to the Abu Dhabi Water and Electricity Authority (ADWEA) in September 2016.
ADWEA, together with Marubeni and JinkoSolar, established a joint venture (JV) called Sweihan Solar Holding Company for developing the PV project on a build, own and operate (BOO) basis in March 2017. ADWEA holds a 60% stake in the JV, while Marubeni and JinkoSolar equally share the remaining 40% stake.
The construction of the solar PV plant began in May 2017 and commercial operations started in April 2019. The estimated investment of the project is $870m.
The plant can generate sufficient power to meet the needs of approximately 195,000 homes. It is expected to offset approximately seven million tonnes of carbon emissions a year.
Sweihan PV IPP location and details
The photovoltaic IPP was initially proposed to be a 350MW project but the capacity was increased to 1,177MW due to the availability of additional land.
"The plant can generate sufficient power to meet the needs of approximately 195,000 homes."
It is located on a 780ha site in the eastern part of the Emirate of Abu Dhabi, approximately 120km from the city of Abu Dhabi.
The solar power project features high-efficiency monocrystalline PV modules, supplied by JinkoSolar. The modules are mounted on a fixed-tilt ground-mounted supporting structure using inventive module layout design.
The plant is installed with a total of 201 power stations, each comprising two 1,000V DC INGECON® SUN PowerMax Serie B central inverters rated at 2.33MW each.
Offtake of power
Abu Dhabi Water and Electricity Company (ADWEC) will offtake the entire power generated at the IPP, under a 25-year power purchase agreement signed with Marubeni and JinkoSolar in March 2017.
Sweihan IPP financing
The project was financed through a combination of debt and equity. A financing agreement was signed between ADWEA, Sweihan Solar and a syndicate of international and local banks in May 2017, with a door-to-door tenure of 26 years and a cash sweep starting in the sixth year.
The syndicate provided $648m in debt, while the remaining was financed through equity and pre-completion revenues by ADWEA, JinkoSolar and Marubeni. ADWEA also raised an $18m standby facility to fund cost overruns, if there are any.
The syndicate included eight commercial banks such as Natixis, Bank of Tokyo-Mitsubishi UFJ, Mitsubishi UFJ Trust and Banking, the Norinchukin Bank, SMBC, Credit Agricole-CIB, BNP Paribas and First Abu Dhabi Bank.
Natixis acted as a technical banker, lead arranger and hedge provider for the transaction. Alderbrook Finance, Fichtner and Akin Gump acted as advisors to ADWEA, while Norton Rose Fulbright acted as advisor to the consortium of Marubeni and JinkoSolar.
MUFG acted as the documentation bank and global facility agent on the deal, while Wood Group acted as technical advisor to the lenders' group. Shearman and Sterling, JLT, Sgurr Energy and Operis provided advisory services to the lenders' group.
Contractors involved
Sterling and Wilson, a company based in India, was selected by Sweihan Solar as the engineering, procurement and construction (EPC) contractor for the Sweihan PV power plant in June 2017. The contractual scope also includes the provision of operation and maintenance services.
Ingeteam Power Technology secured a contract to supply solar photovoltaic inverters for the IPP in September 2017.
Krinner was the ground screw supplier and subcontractor, while SAMT provided project management consulting services for Krinner. Secon worked on the coordination and review of the design and was responsible for preparing reports, floating of request for proposal and supervision of the project-related works.