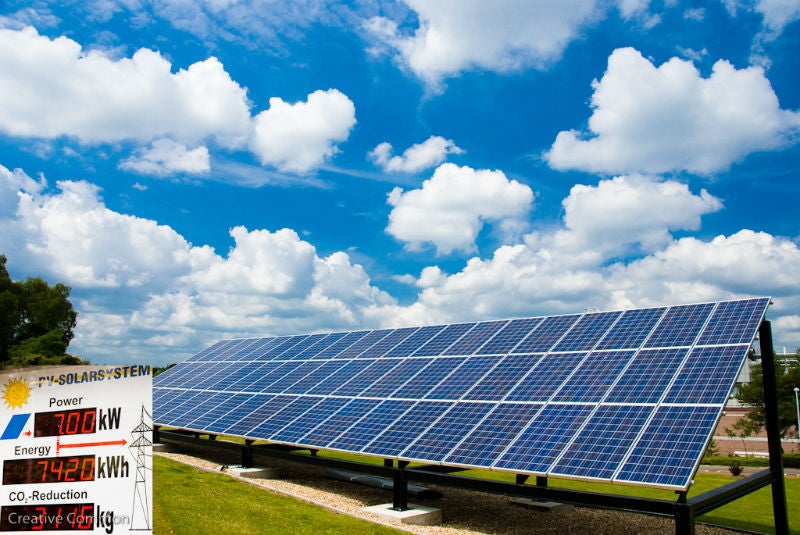 The Solar Trade Association (STA) has found that UK solar power technology is cheaper than estimates have forecasted, with prices reaching as low as £40 per MWh by 2030.
The STA conducted its latest study along with its members over the last six months and found that in 2019, ground-mounted solar will cost £50 to £60 per MWh of electricity generated, well below the government's central estimate of £80 per MWh.
The reduction in costs could lead to large-scale photovoltaic (PV) projects being just as competitive as combined cycle gas turbines and onshore wind power in 2019.
STA policy analyst and study leader Nicholas Gall said: "This is yet another example of the fast-moving solar power market outpacing official costs analyses. Our aim here is to provide an accurate assessment of where large-scale solar costs stand as we enter 2019, when we hope to see some revival of the UK large-scale solar market.
"We urge all organisations conducting low-carbon or energy cost analyses to make use of this up-to-date industry data, which comes directly from our members' own experience of the UK market. We also urge decision-makers to understand how effective policy frameworks enable the lowest possible costs for solar, which will greatly benefit consumers."
At a briefing yesterday, Gall added that there is a significant reduction in the cost of capital expenditure for UK solar power.
PV modules that were expected to cost £270,000 per MW next year, based on forecasts made in 2014, could now be as cheap as £200,000 per MW. Furthermore, by 2030, solar's capital expenditure could be as low as 10% of the overall solar project cost.
Operations and maintenance costs for UK solar power projects have also fallen in the past few years.
Another promising sign is that due to improved technology, most solar equipment can last longer than the 25 years considered to be the industry standard. Many solar farms will operate for more than 30 years, with some lasting up to 40 years, the STA predicts.
The analysis found that panel degradation is slower than previously thought, with conversion efficiency loss reconsidered to be 0.4% per year, down from 0.5% per year.
STA chief executive Chris Hewett said: "We have a clear message for government and corporate energy buyers today: UK solar electricity is now cost competitive with fossil fuels. By establishing the right policy framework for solar and storage, including expediting a smart, flexible energy system, government can enable this technology to realise its full potential in delivering an affordable, low-carbon future energy system."