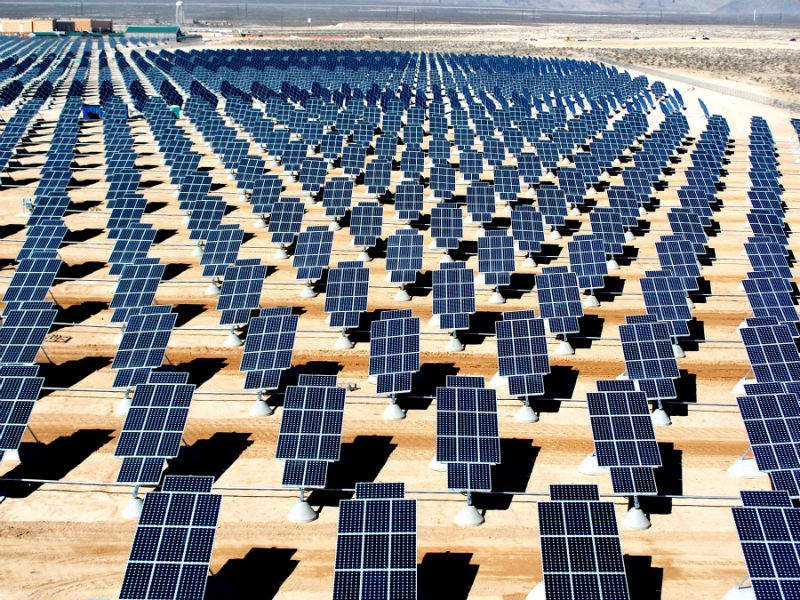 A number of energy-focused propositions and initiatives were up for public vote on 6 November 2018 during the US mid-term elections. But the only victory for US renewable energy was Nevada's Question 6, where 60% of voters agreed that state utility companies should meet 50% of their energy generation through renewable sources by 2030.
Nevada's mixed progress on renewables
The Nevada electorate voted 'Yes' on Question 6, which supports an initiative requiring state electric utility companies to generate or acquire 50% of their electricity from renewable sources by 2050. Before the vote, electric utilities were mandated to deliver 25% of their electricity from renewable sources by 2025.
Advocacy group 'Yes on 6' communications director Kyle Roerink told Kolo-TV: "This is nothing new for Nevada. We've had a renewable portfolio standard. We did it five years before California did. We did it a decade before Oregon did. We did it nine years before Arizona did. So this will just continue a policy that we have had here. But, what it does is, it gets us back up to speed."
However, the Heartland Institute's senior fellow for energy policy James Taylor noted the Brookings Institution's findings that this directive would increase electricity costs significantly.
Taylor said: "What they [The Brookings Institution] did is they looked at the comparison of costs between various energy sources. What they found is that if you replace conventional power with wind power, electricity prices go up 50%.
"If you replace conventional power with solar power, electricity prices triple. That's a tremendous amount of money that would be disappearing from household budgets."
Another proposal on the Nevada ballet, Question 3, was rejected by voters. It would have required the state legislature to establish "an open, competitive retail electric energy market", thereby effectively eliminating Nevada's largest electricity company NV Energy's monopoly on electricity distribution by 2023.
The Reno Gazette Journal reported that NV Energy, sponsored by billionaire investor Warren Buffet, spent $63m on its campaign to get voters to reject Question 3.
While proponents of the initiative said a 'Yes' vote would increase choice for consumers on the energy market, leading to reduced costs of $11 per month per consumer, the opposition argued that states with deregulated energy markets face higher costs, with Nevadans set to face a $25 monthly rise in energy bills.
'Yes on 3' campaign manager Dave Chase insisted that competition would help to drive down costs and allow consumers to opt for US renewable energy.
Chase said: "The fact is, NV Energy spent more money opposing Question 3 than anyone has ever spent in the history of Nevada politics."
Another US renewable energy initiative fails
Elsewhere in the US renewable energy sphere, Arizona's Proposition 127 – a similar initiative to Nevada's Question 6 – was rejected by voters.
The Arizona Public Service Electric Company (APS) opposed the measure, which would have compelled the company to generate half of its power from renewable sources.
APS chief executive Don Brandt said: "We've said throughout this campaign there is a better way to create a clean-energy future for Arizona that is also affordable and reliable."
However, environmental campaigners said they remain optimistic that a renewable revolution is coming to Arizona.
Environment Arizona's 'Go Solar' campaign director Bret Fanshaw said: "As even Prop 127's opponents noted during the campaign, Arizonans do want renewable energy. Solar power is wildly popular because it's clean, it's cheap and it's homegrown. And it's a key component of a liveable future in Arizona.
"So we'll keep working with elected officials, state regulators, the utility companies, and most of all, the people of Arizona, to make the environment a priority and put our state on a path to a cleaner, healthier future."
Clean Energy for a Healthy Arizona spokesman DJ Quinlan went further in his critique of the APS, accusing the state-owned energy utility of corruption.
Quinlan said: "By standing up to the bully that is APS, we have altered the course of our politics for the better. Future change is impossible until APS's stranglehold on our politics is broken –  and we're proud to have made the first crack in their wall of corruption that has held Arizona back for too long."