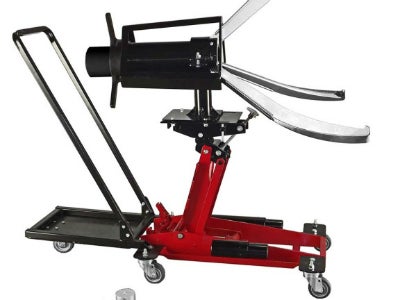 Our 5t to 50t hydraulic pullers are used for gear and bearing removal applications and are offered as part of four series: PHA, PHB, PHMS, and PHES.
The PHA series contains a puller iron, ram point set and lift plate.
PHMS series includes the puller iron, ram point set, lift plate, hydraulic cylinder, manual pump, gauge adapter, 10,000 PSI gauge, male couple with dust cap, and a 10ft heavy-duty hose. The PHES series provides identical components, except the manual pump, which is replaced with a two-stage electric pump.
The PHB series offers a puller iron, ram point set, lift plate and hydraulic cylinder.
Much like our manual puller sets, each series includes the base puller coupled with different auxiliary components. Optional accessories such as long jaws and lift carts are also provided.
When choosing a hydraulic puller to use, the maximum force needed (in tonnes) will be seven to ten times the diameter of the shaft (in inches). For example, a 1.5in diameter shaft would generally require a 15t puller.
All Posi Lock hydraulic pullers are available with Enerpac® or Power Team® hydraulic components.
Please download the PDF on this page to find out more about our hydraulic pullers.
Internal / external hydraulic pullers
The PH-113IE works just like a model 113 hydraulic puller, but the cage can house internal jaws if required. Boasting 25t of hydraulic pulling power, the PH-113IE is available in PHA, PHB, PHMS, and PHES sets.
50t hydraulic puller set with cart | PH-50T
The PH-50T Puller set includes all of the necessary components to tackle those large pulling jobs. The hydraulic lift cart makes moving, storing, and using the 50t puller easy and convenient.
The hydraulic lift easily raises and lowers the puller from a height of 21in (522mm) to 55in (1,397mm). The mounting platform allows the puller to swivel a full 360°. This set also includes both standard and long jaws.
Available with Enerpac® or Power Team® hydraulic components.