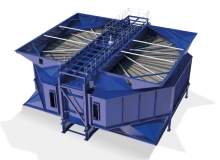 Howden produces rotary air preheaters in bisector, trisector, quad-sector and concentric configurations.
The company also supplies state-of-the-art replacement elements and baskets for any rotary heat exchanger in a range of profiles and enamel coatings, which are designed to cope with extreme erosion and corrosion.
Ancillary products for rotary heat exchangers include highly effective sealing systems and cleaning systems, using water or air jets.