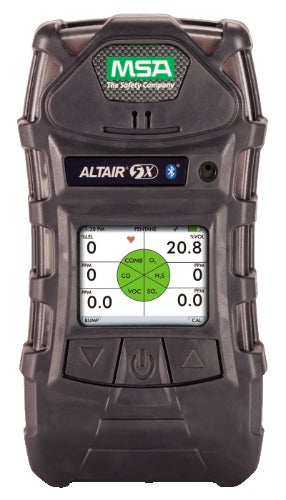 The ALTAIR 5X Bluetooth Gas Detector is capable of measuring up to 6 gases simultaneously and offers a wide range of sensors options (>20) including LEL (H2), O2, CO, H2S, NH3 and PID. The MSA exclusive XCell sensors offer fast response times that help save lives.
ALTAIR 5X Gas Detector delivers better stability, accuracy, longer service life and cost savings over the life of the instrument. Its 18H life rechargeable battery.
Features and benefits:
Unsurpassed durability : survive 3-mmeter drop & IP65-certified.
Special XCell H2- resistant CO sensor for power plants constraints, with cross-sensitivity to H2 of <5%
Additional safety with exclusive MotionAlert man-down alarm and InstantAlert manual alarm
With Bluetooth as a standard feature, MSA brings the benefits of wireless safety to everyone
Rechargeable battery life 18-H
Typical life > 4 years for LEL, O2, CO / H2S, SO2, CO / NO2 and CO sensors &< 3 years for NH3 and Cl2 sensors
Working in gas, coal, oil, hydroelectric, renewable or nuclear power plants is challenging. From generation...
Workers are being exposed to a wider range of activities and hazards which requires PPE...