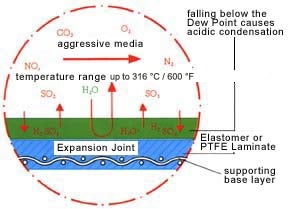 Frenzelit Expansion Joints for aggressive media are engineered from highly-flexible materials with outstanding performance ratings.
The extraordinary performance characteristics of the base materials are well suited to meet the stringent demands in DeNox environments and Scrubber applications.
The single, most important preliminary condition for optimal expansion joint design are the precise operating conditions submitted by client. Frenzelit has developed a unique, above industry standard, questionnaire to capture those important design requirements.
Frenzelit will be attending Hannover Messe 2016, the world's leading industrial technology trade fair.The event...
Frenzelit has developed a series of innovative new high-performance nonwovens called HICOTEC® - with properties...