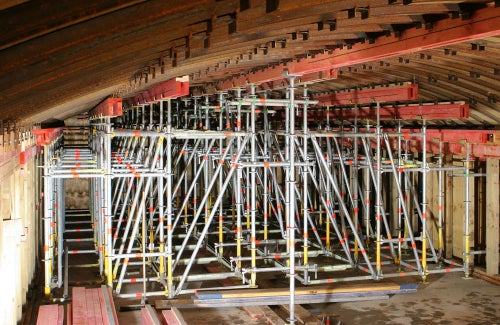 Layher scaffold towers and support systems are quick and easy to assemble and can manage heavy loads. Loadings can be increased by using reinforced head jacks and base jacks, additional bracing and joining standards, all of which are available from Layher.
Allround scaffolding heavy-duty towers and columns can be used where traditional scaffolding towers can't bear the load. For an increase of load capacity for individual standards heavy-duty spindles and top and bottom collars can be provided.
Benefits of heavy duty scaffolding towers include:
Modern system technology
High load-bearing capacity from 4,500lbs (20kN) per tower, expandable to 10,000lbs (50kN).
High-quality components
Stable structure from base out
Adaptable-components can be used for propping or general scaffolding
Ease of assembly and disassembly-logical assembly sequence, exact height adjustment, type tested
Safety-load-locking claw connection is certain
ISO 9001 TUV certified
Economics-optimized, system-based, easy to use first-quality products
Layher has been committed to meeting the profitability, safety, and efficiency requirements of companies across...