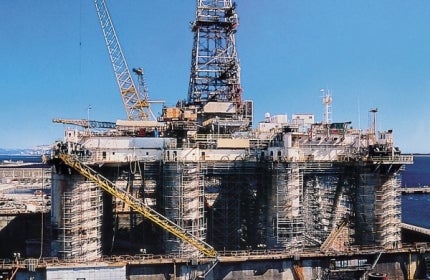 Layher North America supplies scaffolding and scaffolding solutions for the petrochemical, energy, manufacturing and construction industries, as well as commercial, infrastructure, industrial and event applications.
Modular scaffolding systems
Layher manufactures world-leading, high-quality and integrated modular scaffolding systems.
Layher's wide range of scaffolding products are design-engineered, with cross-system compatibility and ease of assembly and disassembly.
Precision-manufactured scaffolding systems
The company uses the highest quality materials and its steel and aluminium scaffolding is among the most reliable and safest on the market.
Layher products are precision-manufactured in Germany to the most exacting standards in the industry.
Scaffolding services and solutions
Layher employs a worldwide team of personnel who have years of experience and knowledge of scaffolding services. Staff use the highest-quality solutions to enhance profitability and solve challenging scaffolding problems.
The company's services include on-site troubleshooting, project consultation, estimating and engineering evaluation information on starting or expanding a scaffolding business.
Insightful, experienced scaffolding services and advice on system selection, layout and planning, financing, streamlining work procedures and other technical matters are also available.
Layher specialities include:
Scaffolding for industrial applications
Scaffolding for commercial construction
Oil and energy
Scaffolding software solutions for planning services
Layher's software solutions are easy-to-use and reliable, allowing clients to design the commercial and technical planning aspects of their project.
The programmes are used for scaffolding planning, optimised use of material capacities and full-cost transparency at every stage of a project.
For special projects, Layher develops customised solutions and special components for even the most uncommon challenge.
Scaffolding accessories and modular components
Layher's wide range of scaffolding accessories and components revolves around well-engineered, modular inter-functionality.
The intelligent system technology and design maximises its flexibility, minimises planning costs and provides fast and easy assembly without expensive changes, so large-scale projects can be economically completed.
Layher's scaffolding accessories include:
Advance guardrails
Anchors, castors, hardware and jacks
Clampable rosette
Console brackets, couplers and scaffold tubes
Edge-protection railing clamps
Steel-toe boards
Telescopic decks, guardrails and stabilisers
The company is the official North American dealer for scaffolding products in the US and Canada, and also works throughout Europe, Asia and South America.
As a pioneer of integrated scaffolding systems, Layher has continued to keep up with the latest industry engineering advances and product developments for more than 65 years.
Layher's wide range of easy-to-assemble, high-quality scaffolding products are among the most reliable and safe solutions on the market.
Please check out our other office locations on the region offices tab
Layher North America offers a complete range of temporary access and special application stairways.
The main use of the Layher Allround scaffolding system is for demanding scaffolding applications - where conventional scaffolding technology cannot be used optimally and economically.
Layher is well aware of the fundamental construction role of accessories, and offers a comprehensive range complete from a single source.
Layher has been committed to meeting the profitability, safety, and efficiency requirements of companies across a number of industries for over four decades.
Layher North America (Central & West region)
8225 Hansen Road
Houston
77075
Texas
United States of America