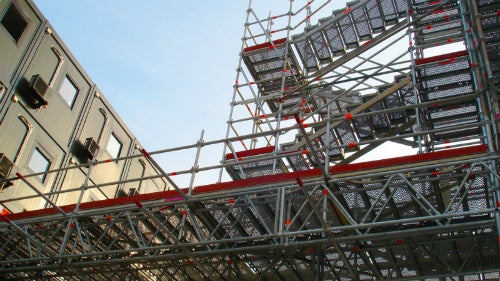 Layher North America offers a complete range of temporary access and special application stairways. Constructed using Allround® Scaffolding components with standard layouts of 10, 12 or 16 legs, Layher stair towers meet all US safety standards.
Layher stairway towers can be used for a range of applications from internal access to public use and offer benefits including:
Safety – All access systems and stairs manufactured by Layher North America meet Occupational Safety and Health Administration (OSHA) and building codes for public access and construction.
High Load Capacity – All Layher access systems have a high-load capacity, making work at maximum building heights possible and safe. Varied working platforms are available.
Quick and simple setup – A combination of lightweight design and connection technology makes erection and dismantling quick and easy while maintaing structural integrit.
Flexibility – Layher stairways and access sytems have a modular design for maximum flexibility. Different exit heights for construction and public stairway towers are available.
Layher has been committed to meeting the profitability, safety, and efficiency requirements of companies across...