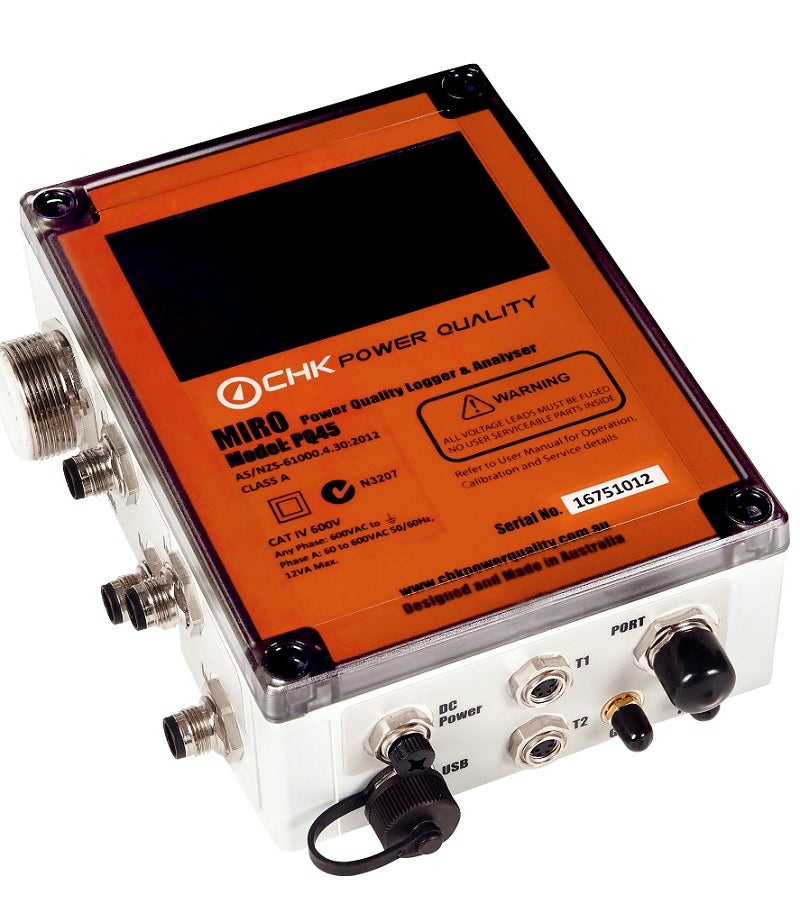 CHK PQ power quality analysers are ideal for all applications, basic and advanced.
The company's MIRO power quality loggers are precision instruments that offer comprehensive and reliable compliance monitoring of low-voltage circuits.
Built for high performance, toughness and focus on ease of use, the MIRO range is the workhorse instruments of choice for a variety of power monitoring applications, including power quality analysis, supply compliance checks and voltage investigations, power flow studies, energy audits, solar and railway systems and transformer monitoring.
Models
The following three phase models are available:
PQ35 (3 voltage and 4 current channels)
PQ45 (4 voltage and 4 current channels)
The Miro PQAs can have customised features to suit customer requirements.
Key hardware features
Certified to IEC61000-4-30, Class A
Compact design 180mm X 130mm X 60mm. Ideal for installation in constrained spaces
AC and DC voltage and current measurements
Isolated voltage inputs
Surface and ambient temperature measurements
An expansion port allows for third-party inputs e.g. DGA, moisture, vibration, pressure, and bushing monitors, etc.
Suitable for all weather conditions
All local (WiFi) and remote communications options (3G/4G) are integrated within the enclosure
High safety ratings
Powered from Phase A to Neutral or an external DC
GPS included as standard
Graphical colour display
Five-minute backup time as standard, with an option to extend upon request
Starts logging on power up
Gapless logging
Concurrent logging at multiple Class A log intervals
Mains signalling included as standard
Large log memory – 8GB
No external power required for DC current clamps
Various communications protocols available
Key software (CITRUS) features
The CITRUS platform is powerful, easy to use and intuitive application software that supports all CHK PQ products. It provides tools for device management, data analysis, and reporting.
Configurations include pre-defined configurations for easy setup, while users can create and store different configuration files for quick retrieval.
Other features include:
Online monitor, with event trigger option (ideal for motor starts)
View multiple log file data on the same graph to compare PQ measurements
Event type filter included to view desired events.
Voltage and current scaling
Analysis and Compliance reporting:
– Voltage compliance profiles available
– User-definable voltage compliance profiles
– Harmonic compliance reports
– Energy; Daily Min/Max; ITI (CBEMA) curve
– EN50160 reports
Customised reports (available upon request)
For more information, please download the brochure on this page.