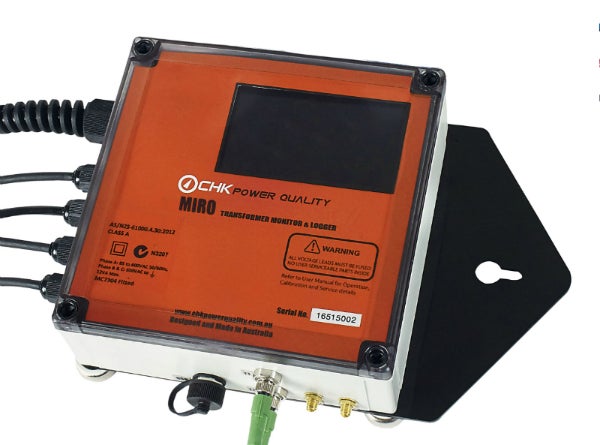 The Miro-F Transformer Monitor and Logger provides data that helps optimise maintenance, operations and network planning activities and is specifically designed for transformer monitoring on a large scale.
The Miro-F offers comprehensive and reliable LV side transformer monitoring and includes measurements of three-phase voltages, four currents (three phases and neutral) and two temperatures and other power quality parameters.
The Miro-F incorporates fixed-voltage leads and removable current sensors. The current sensors (clamp on CTs or Rogowski coils) can be customised to match the transformer load. The Miro-F incorporates a back-plate and four magnetic feet for quick and easy installation on to the transformer or pole. The weatherproof design (IP66) makes the Miro-F suitable for installation on pole-top transformers.
The Miro-F is equipped with integrated remote cellular communications (3G/4G) and offer various communication protocols, i.e. TCP / IP, FTP, Automatic Data Retrieval, and DNP3.
Large-scale network monitoring solutions utilising multiple Miro-F instruments can be implemented, providing network engineers with information for planning, operations, maintenance and network modelling. The data can be also be interfaced into a database, e.g. Pi Historian.
CHK Power Quality recognises the critical need for security. Secure communication can be established using SSH (Secure Shell) for TCP / IP and FTPES (File Transfer Protocol Explicit Security) for FTP.
All CHK Power Quality products share a common software platform, i.e. Citrus. The Citrus software is easy and intuitive to use and facilitates easy and quick analysis of data, allowing users to take necessary decisions.
For more information, please download the brochure on this page.