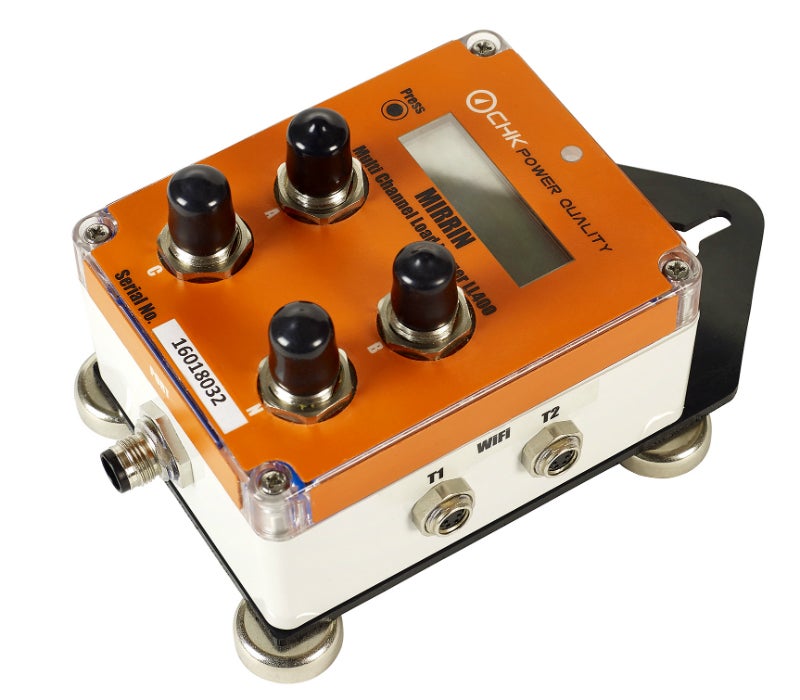 The MIRRIN Multi-Channel Battery-Operated Load Logger (MLL) measures AC RMS currents (load) on up to four channels and is ideal for monitoring loads on transformers, circuits and switchboards.
It can also record load profiles and is used to identify slow-changing events such as long-duration interruptions, outages, and derive estimates of usage patterns.
The Mirrin MLL is also useful as a diagnostic tool to assess load sharing on single-phase circuits and load balancing on three-phase systems.
The Mirrin MLL incorporates a liquid crystal display (LCD), which shows the loads, maximum loads measured and date-time stamps. This feature makes the Mirrin MLL ideal for use as a maximum demand indicator (MDI).
Rogowski coils and iron core clamp on CTs can be used with the Mirrin MLL, and its all-weather construction (IP65) makes it suitable for outdoor use, e.g. logging pole top transformers. WiFi communications allows the Mirrin MLL data to be downloaded using a smart App (Android and iOS) and also allows configuration of the device.
The built-in rechargeable battery allows the Mirrin MLL to be used on site for months, before recharging is required, and comes with a power savings mode, to extend battery life. The large memory of 8GB allows many years for data logging.
For more detailed specification information, please download the brochure on this page.