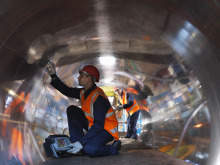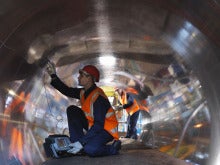 Developers, operators, industrial plant engineers and non-destructive testing (NDT) coordinators require NDT consultancy and testing services to check for weaknesses in a wide range of power plant systems and components.
This is to ensure compliance with design codes and statutory regulations for new construction projects as well as maintenance of existing plants.
TÜV SÜD's plant engineering experts have the technical expertise and experience to support you in carrying out challenging NDT tasks across all relevant fields of applications.
We help you to identify the appropriate NDT method for each specific problem and to ensure accurate results from NDT.
Trained to perform testing in accordance with all international standards, our specialists are also certified in accordance with UIC 960 (DIN 27201-7) EN ISO 9712 (superseding EN473), ISO 9712 , PCN and SNT-TC-1A.