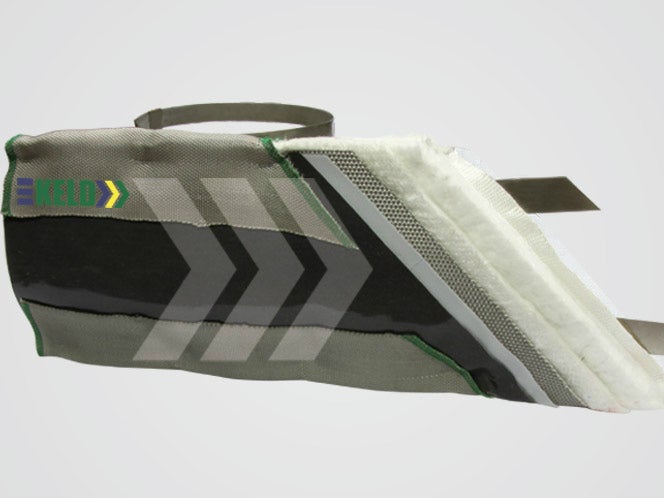 Non-metallic expansion joints (NMEJ) offer a number of advantages, especially in plant design and building. They take up movements in several directions simultaneously, have almost no reactive forces, need little space for installation, are easy to adapt to existing physical conditions, and are easy to transport and install.
NMEJ are designed on the basis of:
Thermal movements in the duct system
Design values of the medium temperature and pressure
Composition and nature of the medium flowing in the ductwork
Gas velocity
Dust content in the medium
Special requirements with regard to the installation
Space availability
Each NMEJ is custom-built to suit the application in question with regard to:
The temperature ranging from -65°C to 1,400°C
Choice of material and composition
Fastening or tightening method
Steel part and steel quality
Insulation (bolster)
Mechanical protection against abrasion (sleeve arrangement)
Fabric expansion joint alone or pre-assembled on steel parts (units)
Additional mechanical protection to the fabric from the outside
These NMEJs can be manufactured (against order) in all the necessary shapes and forms according to customer requirement viz. round, rectangular, square, oval, conical or combinations in different configurations shown below.
All fabric can be supplied as fabric part only or pre-assembled on steel parts for quick installation in the duct system.
KELD Uniflex
This variety includes a range of single layer expansion joints, consisting of specially developed materials, which cover a temperature range of -65°C to 200°C.
KELD Flexfab
This series includes a range of multi-layer expansion joints, covering most operating conditions in air or gas duct systems. The individual type of expansion joint is chosen on the basis of the chemical composition of the medium, maximum operating temperature etc. KELD Flexfab series can be supplied with or without a membrane, which is impervious and resistant to chemicals. Similarly, the type of outer cover can also be varied depending upon the operating and customer requirement.
KELD Cemfab
This series includes a range of products developed exclusively for the cement industry. The special feature of this series is its outer cover, which provides mechanical protection to the fabric expansion joint.
KELD Flexfab-SB
This series is generally used only when the application temperature is very high (beyond 750°C) or the application demands a special pre-formed fabric expansion joints.
Special applications
KELD has also specialised in the following applications for expansion joints:
Diesel generator exhaust ducts
Babcock coal mills
Chimney seals for multi-flue chimneys
Pipe penetration joints in HRSG
Reformer tube expansion joints
Repair of damaged metallic expansion joints