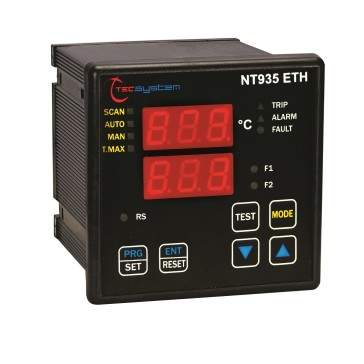 The NT935 ETH is an innovative electronic device microprocessor based, which is designed for dry type and cast resin transformers, with integrated ETHernet port.
Equipped with all the necessary functions needed to monitor and control the temperature of the transformer, as well as the existing product line NT935, it is presented, in this edition 2015, with a more functional version of both hardware and software.
Communication with the network is via ModBus TCP / IP protocol, that allows the user to display and to program all the unit functions from the comfort of the desk.
The NT935 ETH maintains the traditional four Pt100 inputs (windings and environment) and four relays ALARM, TRIP, FAN and FAULT, as well as new functions and renewed display on the front.
On request, the unit will be available with

certification for the North American market.
POWER SUPPLY: with input from 85 to 260 Vac-dc