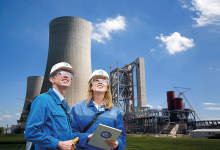 Without a qualified inspection process, a new-build or rehabilitation project could suffer from unidentified risks and defects during construction, leading to potential unforeseen loss of revenue.
Owners need independent third-party expertise to help them make informed decisions regarding manufacturers and component suppliers, and to avoid weak points in plant construction and operation.
TÜV SÜD has international project experience and a global presence that allows us to build strong relationships with local EPCs and component manufacturers.
Hence, providing reliable support in planning, management, supplier evaluation and personnel training for plant construction and operation worldwide.