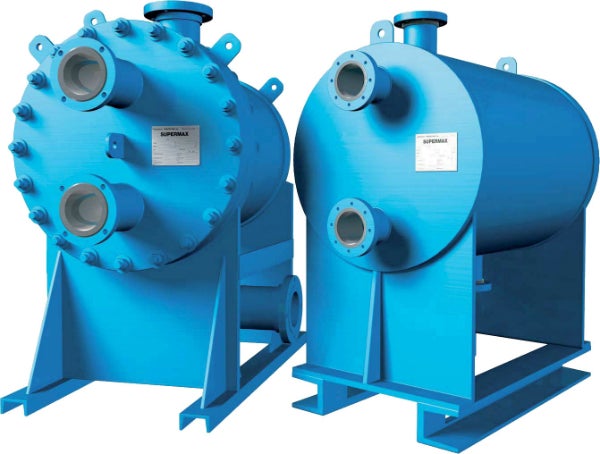 Designed at Tranter's Welded Competence Centre in Germany, the Tranter Shell and Plate Heat Exchanger is capable of withstanding high temperatures.
This model is designed as a performance upgrade over shell & tube, block-type welded and brazed aluminum heat exchangers. The exchanger offers high thermal performance with compact size, similar to that of gasketed plate heat exchangers, with low hold-up volume and low installed weight, especially when filled.
The heart of the Tranter Shell & Plate Heat Exchanger is its heat transfer element, also called the plate core, composed of round or oblong chevron-type plates welded into a cassette by a porthole perimeter weld. Cassettes are then placed together welded to each other using a perimeter weld.
The thermal element subassembly then has metal shell-side flow diverters, nozzles and an end plate welded to it. An exclusive cage structure, welded only to the end cover, surrounds and supports the plate core pack assembly. The cage prevents any cantilever stresses from being transferred to the plate pack. The result is a pressure vessel of high integrity, with an accordion-like core that is highly tolerant of thermal expansion.
The construction is more robust than in gasketed units, shell and tube exchangers and welded block-type square welded units. There are no gaskets to replace or fail. There are no tubes to vibrate under upset flow conditions and induce stress to welds, baffles and supports, with early failure the result. The fully welded round or oblong design, involving both plate port and perimeter welds, is an optimal stress-distributing shape; there are no 90° corners and edges subject to stress failures as with block-type plate heat exchangers.
The marine market is constantly undergoing changes, new legislations and environmental laws puts high demands...