Tranter is a global manufacturer of gasketed and welded plate heat exchangers. We have provided heat transfer products and solutions for more than 80 years and remain at the forefront of this area.
Tranter offers compact heat transfer solutions to customers worldwide; we are represented in more than 50 countries.
Cost-effective heat exchangers
We manufacture the largest range of plates available on the market. Beyond this, we are committed to extending our support to customers through our specialist service centre network; we provide services for all brands and offer spare parts. Tranter is ISO 9001-certified, meeting the highest standards for quality, and we work closely with customers to achieve cost-effective solutions.
Plate heat exchangers for cooling processes
The Tranter plate heat exchanger (PHE) provides outstanding efficiency transferring heat from one liquid to another or from steam to liquid. This modular exchanger combines frames, plates and connections to form a variety of configurations. Tranter PHEs are custom-made and are available in more than 30 different sizes with connection sizes ranging from 25mm-500mm.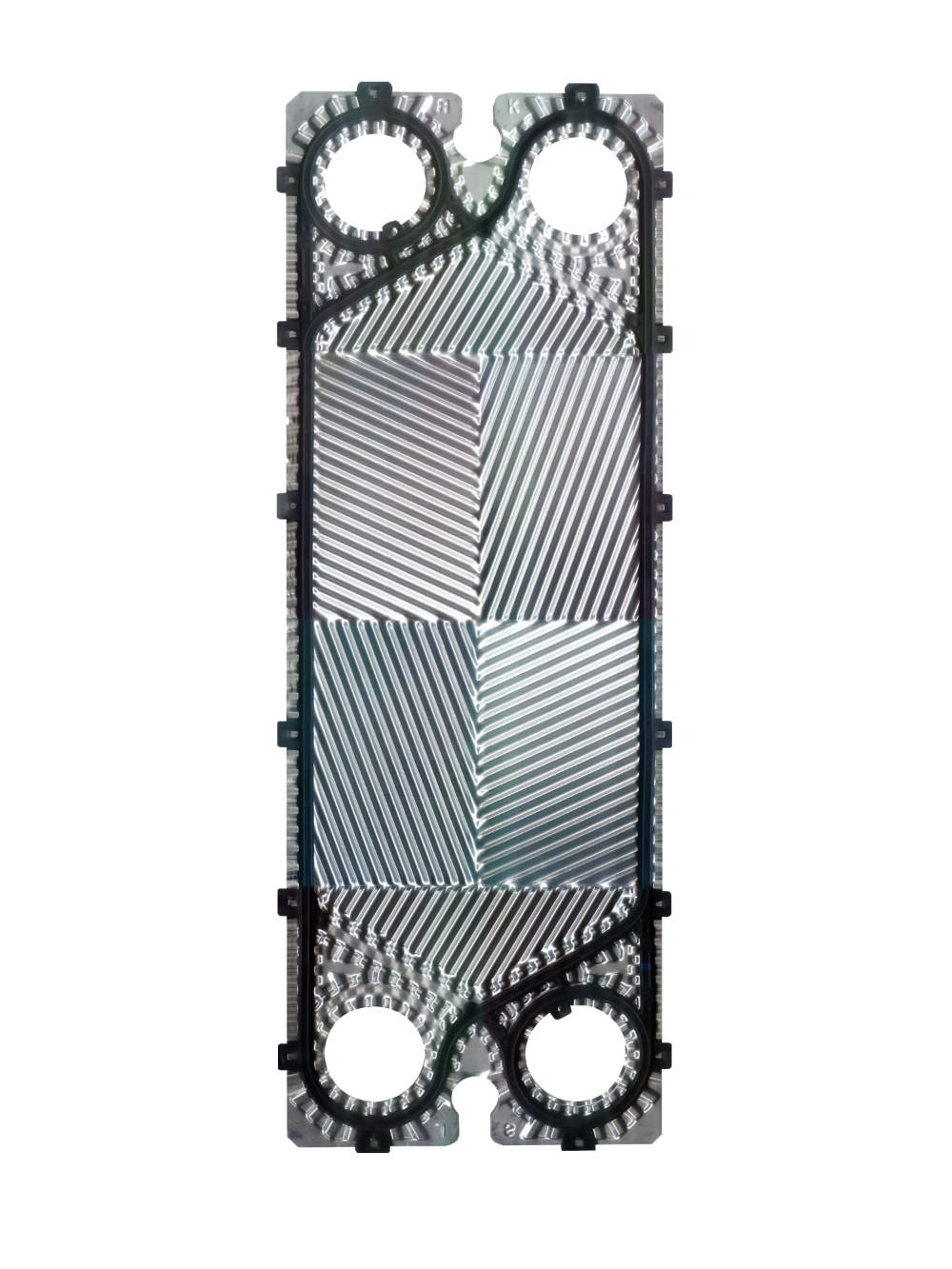 A wide variety of plate styles enables precise accommodation of duty conditions.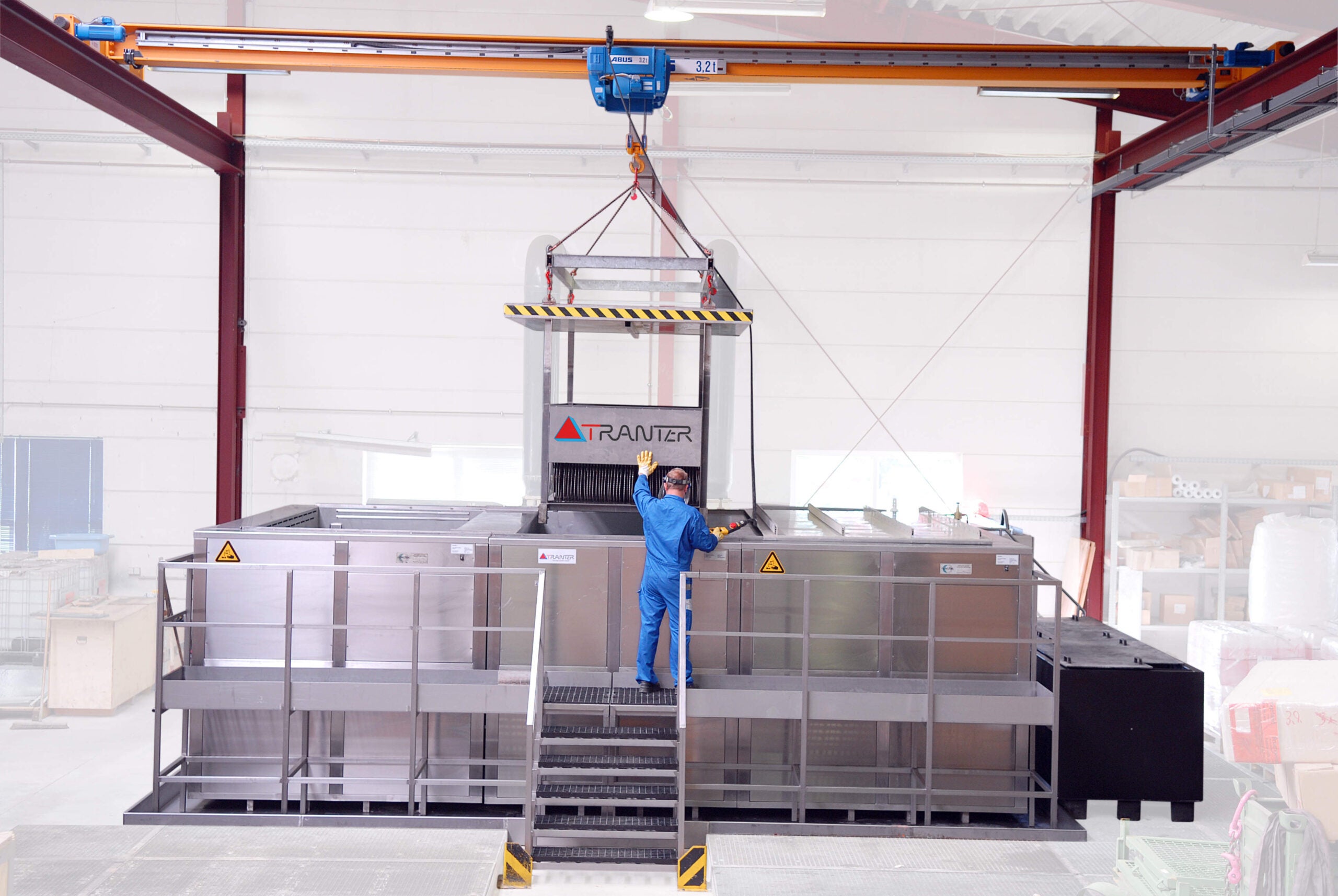 Technical specialists at Tranter Service Centers have the experience and know-how to refurbish all brands of plate heat exchangers in our shops or in your facility.
With the gasket acting as a sealing media between the heat transfer plates, the PHE can be easily opened for cleaning and maintenance purposes. Depending on the applications, heat transfer plates are available in different materials such as SS304, SS316, 254SMO, titanium, Ti-Pd, Hastelloy C-276, nickel, Incoloy and other industrial materials. Gaskets are also available in different materials such as NBR, EPDM, VITON and others that suit individual applications.
All-welded plate heat exchangers for power applications
Tranter welded heat exchangers (WHEs) are customised to ensure the highest quality and efficiency. They are compact heat exchangers used for extreme temperatures, pressures and specialist designs that exceed gasket limitations.
They offer high-performance, small sizes and minimal maintenance. All-welded heat exchangers can handle liquids, gases and two-phase mixtures at very high-pressures, as well as at low and high temperatures.
We offer three main types of all-welded heat exchangers: shell and plate, spiral, and prime surface platecoil with connection sizes ranging from 25mm-300mm.
Prime surface heat exchangers for thermal processes
Tranter PLATECOIL® prime surface heat exchangers deliver efficient and uniform thermal control in immersion duty; jacketing vessels, reactors or dryer shells, within fluidised beds or configured as gas phase heat recovery banks. In thermal processing of any kind, PLATECOIL exchangers offer customers more effective thermal control than pipe coil, half-pipe, dimple sheet or gridcoil.
Spiral heat exchangers
Tranter Spiral Heat Exchangers are utilised for a wide variety of industry applications, especially for process industries. As a result of the flexibility of the custom-made tailored design, they can be used as heaters, coolers, interchangers and condensers.
Spiral heat exchangers are ideally suited for handling 'difficult' fluids, such as sludge, slurries, heavy-fouling, viscous and/or particle-laden liquids, but also where fluids have to condense at low pressure drops. Each spiral heat exchanger is a custom-made product and can be made from any cold-workable and weldable material.
Because of the single-flow passages, the spiral heat exchanger is state-of-the-art technology especially in the case of fouling, viscous and/or particle-loaded fluids and is therefore frequently the first, if not the only choice.
Multi-brand service for cooling systems and heat exchangers
Service is essential for avoiding unscheduled and expensive shutdowns. We ensure plate heat exchangers are properly maintained and that they work according to their specification and capabilities.
Tranter has dedicated service facilities around the world for cleaning, inspection, reconditioning of plates and replacement of gaskets. Alternatively, our teams of OEM trained service engineers can visit your site to service any model of plate heat exchanger. We are committed to extending our support to you through our specialist service centre network and understand your need for minimal downtime. You can trust Tranter – the heat exchanger people – with your plate heat exchanger servicing needs.
Research and development for heat transfer plates
Tranter research and development (R&D) for heat transfer plates is located in Wichita Falls. Tranter holds several international and active patents. We also have our own modern die shop, which produces precision dies for both the plate heat exchanger and PLATECOIL product lines.
Heat transfer specialists
Tranter achieves market leadership by applying a three-part philosophy:
Investing in R&D to maintain a competitive edge
Providing customised products with a solution-driven approach
Supporting our customers' lifecycle investments through quality parts and services
Backed by more than 80 years of exclusive focus on heat transfer, Tranter has earned its reputation as 'The Heat Transfer People'
We have ISO-certified, wholly owned factories in the US, Sweden, China, Germany, Brazil and India. We support customers from installation through to lifecycle maintenance with a broad network of service centres in the above locations, as well as additional areas such as Canada, the UK and Italy.
Our service centres specialise exclusively in plate heat exchangers, including refurbishment and supply of parts for all known brands in the market.
Customised thermal management
We are always happy to talk about your heat transfer needs and help you find your perfect matched solution. Ask us how we can help you improve your thermal management today. Please use the contact details below to get in touch.