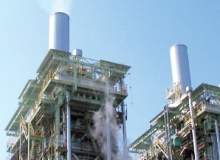 In projects where power production is the primary requirement, it is necessary to optimise on criteria other than investment cost.
In this product category, Aalborg Engineering can provide the SteamGen™ 8, which offers the best and most readily available HRSG technology on the market.
SteamGen™ 8 is the vertical HRSG for medium-sized gas turbines, and is available with no supplementary firing and with limited supplementary firing. The boiler is designed to meet the highest possible reliability, combined with the most cost-efficient solution.