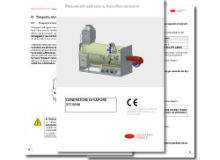 Power Engineering is able to produce all the necessary documentation useful for the technical/commercial management of the machinery and equipment of its own design, or already existing at the final customer. Examples include:
Risk analysis and drafting documentation for certification "CE" (User and maintenance manual; Technical File; Functional Attachments, etc.)
Creation of exploded drawings for the management of spare parts and after-sales, with solutions made with classical isometric axonometry or with parametric tables obtained from three-dimensional models for rapid interpolation
Creation of catalogs and commercial brochures
The decennial experience acquired through collaboration with very structured corporate clients allows us to take in managing the maintenance of the documentation of your products.
We can guarantee constant updating of catalogs, manuals, parts catalogs and other documentation, managing the entire life cycle of the document by integrating our activity with any management system existing c/o the client company, even taking care of archiving.