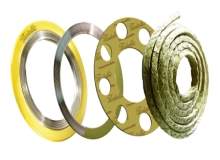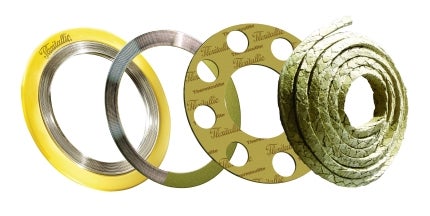 Thermiculite® is specified by name where critical sealing matters. Applications include petro chemicals, fertilisers and OEM and oil & gas applications where process conditions are extreme.
Flexitallic's experienced engineers use the versatility of Thermiculite® to create bespoke sealing configurations in equipment and piping systems to increase operational up-time for customers. This product has proven itself as an effective long-term sealing solution in more than 600 of the most demanding industrial sealing applications.
Thermiculite® is a patented product with amazing versatility. Not only can it withstand high temperatures and corrosive environments, due to its unique formulation it can also act as stand alone sheet material, as a filler for SWG's or as a facing for Kammprofiles and other product lines.
Flexitallic has also developed a range of valve stem packings, using Thermiculite® technology, for use in the most arduous services.
Product range:
700 to 800 Series – sheet grade
866 – specialist grade (SOFC)
896 – aerospace
Kammprofiles
SWG
Static and Dynamic Packings
I-Flex Isolation Kits
Flange Rescue Gasket (FRG)
Attributes:
Engineered and manufactured in the UK
Wide temperature range – cryogenic to 1000°C
Fire-safe API 6FB
TA Luft approved
Free from oxidation
Excellent chemical compatibility
Wide availability of styles of gaskets
Electrical and thermal insulation
Replaces graphite, PTFE and non-asbestos materials