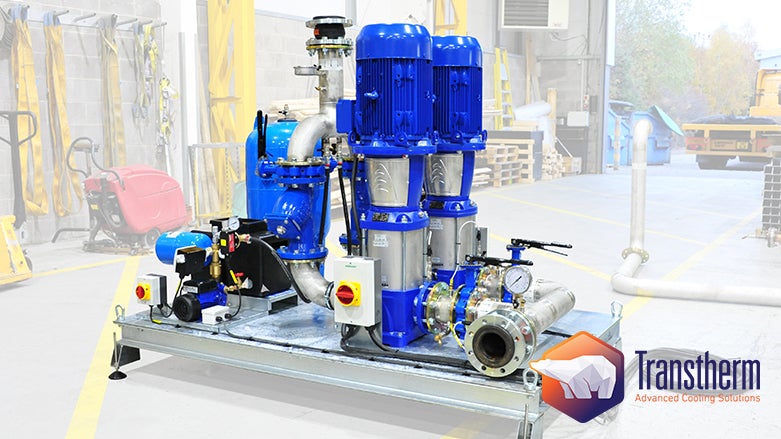 Transtherm's range of complete pump sets are straightforward and cost effective, suitable for commercial and industrial use.
Types of applications include chilled water systems, condenser water cooling systems, combined heat and power systems, industrial air compressor applications and induction heating systems.
Fully packaged with lugged butterfly valves for pump isolation, Y-type strainers, binder test points, pressure gauges, NRVs and auto air vents, where required
Full control packages supplied with the options of DOL or soft starting and pressure based inverter speed control
Ferrous and non-ferrous systems with end suction or vertical multistage pumps available
Multiple optional extras are available including:
-Brazed or gasketed heat exchangers for heat recovery or to put a break in the system
-Local isolators for electrical isolation of pumps
-Rubber bellow flexible connections to compensate for axial extension and compression, as well as transverse and angular deflection
-Dosing pot to feed corrosion inhibitors or antifreeze into closed circuit systems safely
-Pressurisation sets designed to replace water lost through system leakage and maintain system design fill pressure in sealed water systems
Yes, even cooling fans need to have the odd gym workout.If your equipment is only...