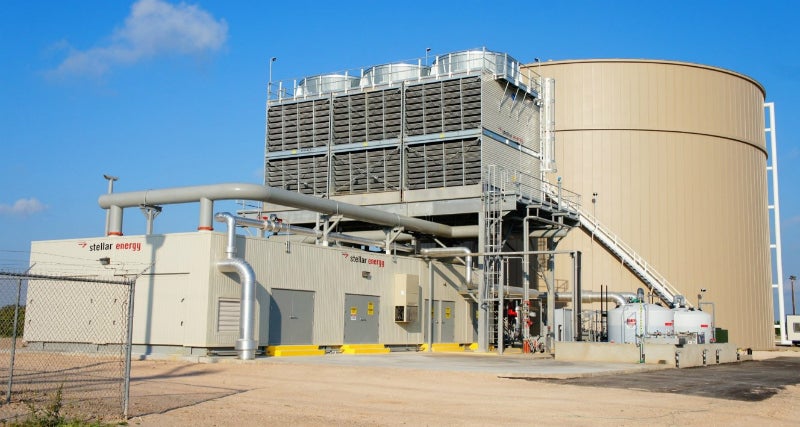 Stellar Energy is the only turn-key provider of fully-integrated, custom turbine inlet air chilling (TIAC) systems. As an industry pioneer in turbine inlet air chilling technologies, Stellar Energy has designed and supplied custom TIAC systems for electric utilities, independent power producers, municipal power-generation facilities, industrial power islands, and liquefied natural gas facilities across the globe.
Best day performance, every day
TIAC is a time-tested, proven solution for recapturing gas turbines' lost productivity and providing consistent, reliable output.
High ambient temperatures decrease turbine power output at the exact time when power is needed most – during peak electricity demand.
By applying TIAC systems, power producers can avoid this output drop, improving their profitability, and guaranteeing constant power production.
By mechanically chilling the inlet air before it enters the compressor, TIAC gives the turbine a boost, maximises its potential, and restores the power produced to the nominal-rated output. The result is a 35% increase in overall power output.
Power when you need it most
TIAC systems can incorporate thermal energy storage, shifting power required to run the chilling system to off-peak times, when power is in less demand. This increases the power available for dispatch during peak periods.
Proven benefits of turbine inlet air chilling
Increased power output and efficiency
Maximisation of your existing asset
Improved heat rate and reduced emissions
Enhanced operational stability and flexibility, including opportunity for energy storage
Better financial performance
Improved power plant life-cycle cost
Stellar Energy has helped companies and public utilities worldwide reduce energy costs, optimise energy performance...
Stellar Energy, a global provider of energy solutions, is pleased to announce the opening of...